Tim Fountain : Sex Addict
Tim Fountain
Royal Court Theatre Upstairs
(2005)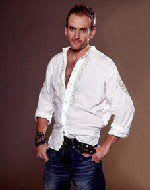 If you fancy a shag with 37-year-old Tim Fountain, it might be worth a trip to the Royal Court. On press night, this worked a treat for Peter with the shaved head from NW6, last seen heading off to the blue dressing room with the slightly shabby Yorkshireman.
Tim Fountain : Sex Addict was a hit at last year's Edinburgh Fringe and duly received an invitation to travel south to England's premier new writing theatre.
There was a lawyer in the house and, in the context of Beshti, in Birmingham and the attempts to stop Jerry Springer The Opera from a BBC screening, that may be as well. Sadly for Mr F, his invitation from the moguls at Broadcasting House may be a little slow in arriving.
The show is more stand-up improvisation than theatre as our hero, a man who claims to have slept with over 5,000 men (and a lesbian), takes his audience through modern dating rituals.
We go "out of the bogs and into the World Wide Web" to view an assortment of gay-sex websites including Gaydar "Hampstead Heath in Cyberspace" and the stomach-churning beastdate.com. The latter rather begs the question as to how the lucky beasts get internet access - A cyberbarn?
Fountain warms us up with stories about his conquests in Camden and Edinburgh (the slightly ageing Frank from Morningside) in earlier versions and also encourages audience participation. This flows most easily from the gay male contingent, Antipodeans in the vanguard.
The history of gay virtuality is graphically illustrated, with many images of unclothed but rather excited men, which ensures that the self-awarded 18 certificate is appropriate.
The final phase takes us into the chat room on Fountain's own website, www.timfountainsexaddict.com. There, a selection of contenders, including the unbelievable Humiliated Man, vie for audience votes in the contest for a night with Tim. They are also asked to phone in - not easy if, like one man, you are at work.
The sky is almost the limit but, in fact, the 20-mile range of an electrically-powered bicycle used to get to assignations plays a part too.
The end is like a reality TV show as the audience votes for the lucky man (or theoretically woman). The resulting tryst can be followed up on the TF site the following day.
Fountain is a good performer (theatrically speaking at least) but the show struggles to sustain attention for a full ninety minutes. There is at least a possibility that it is almost all a scripted scam and that little is really ad-libbed. Either way, it can be both very funny and disgusting simultaneously but whether it is high art is doubtful.
Ultimately though, the title says it all.
This review originally appeared on Theatreworld in a slightly different version
Reviewer: Philip Fisher