Tips for Actors
Fergus Craig
Oberon Books
Released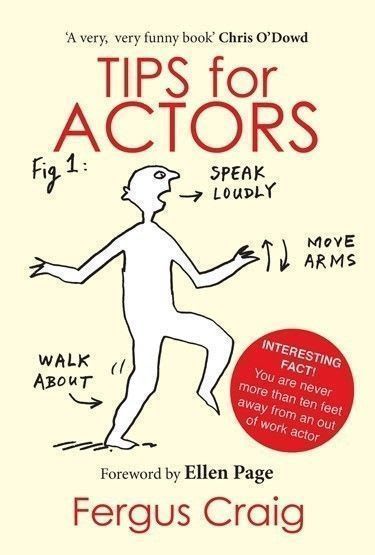 Looks can be deceiving. Anybody reading the title of this pocketable little manual would imagine that it might be an ideal present for somebody in the acting profession who needs a helping hand to improve their performance.
In theory, that is exactly what Fergus Craig has written. In fact, anyone following his dicta word for word would end up at the very least unemployed, possibly with a few teeth missing and for those who get to the end of the book, imprisoned for life.
Instead of a manual, Tips for Actors is a spoof comic book in which almost every helpful suggestion is actually another nail in the coffin of any reader who is stupid enough to follow Mr Craig's not terribly sage guidance.
At its best, this can be an extremely funny volume, although much of the comedy is quite extreme and, while not necessarily offensive, might on occasion miss its mark by quite some way.
The subject matter is certainly varied including chapters on subjects such as dealing with your agent, animal work, social media presence, poo guide, nudity, what actors spend their money on and corpsing tips.
In addition to the general text, the book is littered with Top Tips, Opinions and Interesting Facts, each and every one followed by an exclamation mark for emphasis.
To give one example, "if you don't warm up before a performance there is a 40% chance that you will die".
There are also occasional lists such as 10 tips to help you stand out and no fewer than 20 possible ways to make your Spotlight photo stand out.
All in all, this is a light read that will have some in stitches intermittently, others falling about a great deal and those whose humour does not accord with that of Mr Craig wondering what all of the fuss is about.
Reviewer: Philip Fisher