Tosca
Composed by Giacomo Puccini, libretto by Luigi Illica and Giuseppe Giacosa, based on La Tosca by Victorien Sardou
Metropolitan Opera
Metropolitan Opera House, New York
–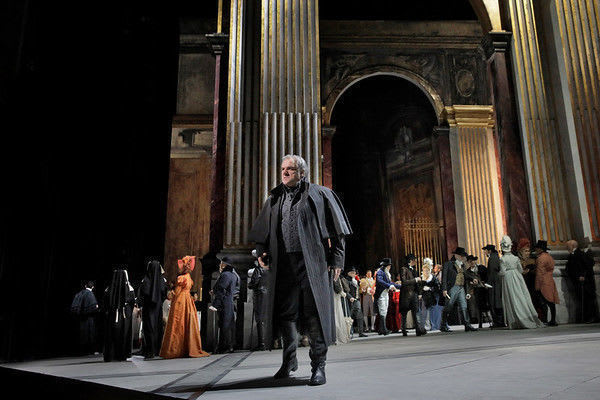 Spearheaded by Jennifer Rowley, making her only appearance of the season (so no photo), Vittorio Grigolo, Željko Lučić and flamboyant conductor Emmanuel Villaume, this performance of Sir David McVicar's new production of Tosca was a triumph for the Met.
That might have seemed unlikely given that it may well have suffered from more problems than any of the previous 954 Toscas at the venue. When this critic obtained tickets, it was already on to its second conductor. In the ensuing couple of months, all three leads disappeared and a third conductor was enlisted. To compound the history, on the night, the second interval got close to doubling in length, apparently due to technical difficulties with Joan McFarlane's breath-taking set.
Given all of this disruption, it would have been disappointing but understandable had the evening been a let-down but it was anything but.
The set designs for all three acts are things of beauty. Set exactly a century before the opera's première, the drama is played out in Italy during 1800, as Napoleon tries to overrun Europe.
The opening takes place in an ornate church, which looks like a towering cathedral and where an artist Cavaradossi is plying his trade. The second act moves to the palazzo of evil police chief Scarpia. This features a gigantic mural that has the grandeur of Titian or one of his contemporaries. The final act setting, out in the open, is also evocative, although pared back a little to avoid detracting from the drama of the evening's tragic denouement.
There was far more to enjoy at this production than the set. While Tosca's jealousy can drag in the first act, her love for the artist Cavaradossi is clear. He, in turn, is a brave patriot willing to risk his life for the cause.
These two really come into their own in the second act, during which Vittorio Grigolo proves to be a thrilling tenor, while Jennifer Rowley matches his passion in a stunning duet. She comes into her own as tragedy strikes and the fickle Tosca realises her responsibility, delivering a beautifully sung lament.
However, from the early stages, it is apparent that Željko Lučić as Scarpia will make life difficult, as much due to his own vindictiveness and desire as for valid political reasons.
Each of the stars has an opportunity to shine and all take theirs with alacrity, the baritone managing to impress, even as his character takes on all of the traits of a melodramatic baddie of the kind that should make audiences boo and hiss.
Despite the delays, the last act remained magisterial, fully justifying the latest casting decisions and sending a tired audience home happy and impressed by direction, design and performances.
The Saturday 27 January matinée performance of Tosca will be transmitted worldwide as part of the Met's Live in HD series, which is now seen in more than 2,000 cinemas in 73 countries around the world.
Reviewer: Philip Fisher