Translunar Paradise
George Mann
Theatre Ad Infinitum
The Corn Exchange Newbury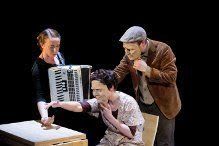 Translunar Paradiso is a compelling and moving mime and mask play that tells the heart rendering story of old age, death and memory exquisitely presented by Theatre Ad Infinitum.
George Mann superbly plays the old man who is grieving over the death of his wife from cancer, a touching performance from Deborah Pugh. He is not coping well, continuing to set the table with two mugs when making tea. He fondly opens a small suitcase containing memorabilia including a necklace and a bunch of treasured letters and lovingly remembers his wife.
They both hold beautifully made, hand-held, elderly masks which helps to create their characters and they rhythmically remove them to become their younger selves to the sounds of a whooshing noteless accordion.
Kim Heron's evocative score skilfully played on the accordion coupled with her superb singing is gracefully integrated into the show. She magically provides props and effortlessly assists with the masks.
In a series of flashbacks, the pair act out their lives together, their arguments and their making up. We witness the joys of their engagement and marriage contrasting with the tragic loss of their baby that was palpably felt by the audience.
William's departure to go to war and his embarkation at the station is simply but effectively staged with keepsakes exchanged and Heron's soundscape of the train departing is exceedingly effective. His return after being invalided out is emotional but is much to the relief of Rose.
Her death is dramatically represented with her spirit returning to give an act of kindness and release William from his sorrow that brought a genuine tear to the eye to many of the responsive and reflective audience.
Directed with inventive assurance by Mann and inspired by W B Yeat's poem The Tower, this is a masterclass in mime from these two Le Coq trained actors. A true tour de force told with passion and moving sensitivity. I cannot recommend this production highly enough.
Reviewer: Robin Strapp