Tribes
Nina Raine
Barrow Street Theatre, New York
–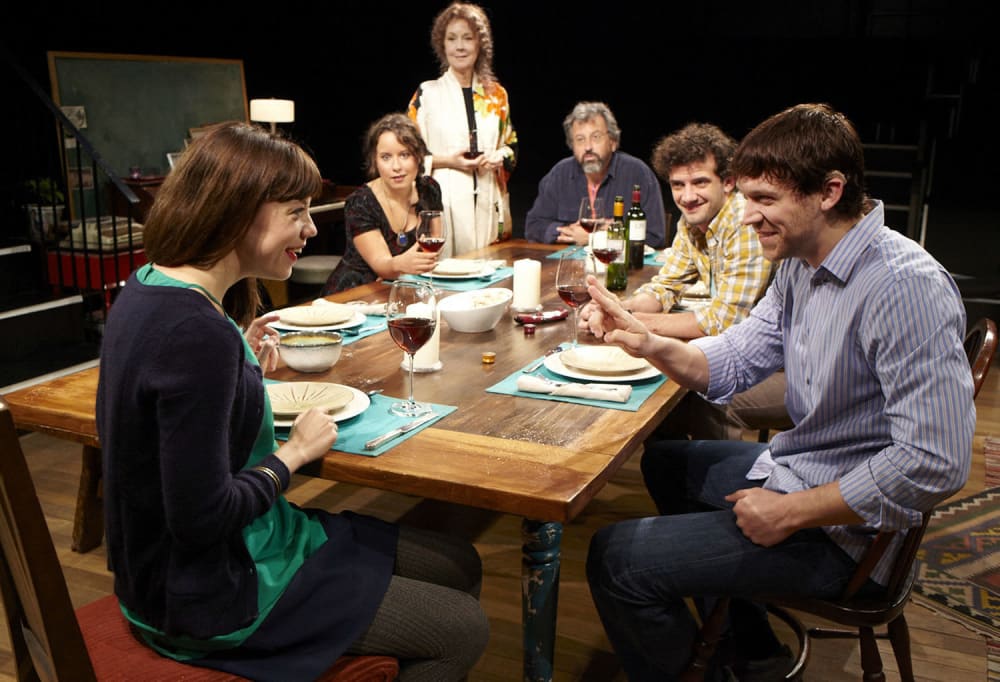 David Cromer has reinvented Nina Raine's Tribes, staging it in-the-round, which invites visitors to spend 2¼ hours feeling as if they are in the firing line around a family dining table.
This North London, Jewish family who have a whale of a time winding each other up at every opportunity, is almost certainly closely modelled on the Raines, seemingly a kind of intellectual variant on the Osbournes.
The quintet obviously love each other but show it through the medium of breathless streams of beautifully crafted insults rather than in more conventional fashion.
This makes for great fun as jokes flow thick and fast throughout an extraordinary first half.
To describe the almost-Raines as dysfunctional is practically an understatement. Father Christopher, played by Jeff Still, is a lecturer / writer whose doctorate must surely have been in patronising anyone who has the misfortune to come within range of his vituperative tongue.
Lee Roy Rogers as mother Beth is starting a career as a crime writer but spends more time trying to defuse arguments than writing.
With two such large personalities at the dining table, it is no great surprise that their grown-up children have problems in obtaining work and life partners.
Dina Thomas's Ruth is messing around at opera singing, while Nick Westrate as her brother Daniel suffers from a stream of problems, most of them linked to insecurity.
A portrait of this feuding family would make a great play on its own but Miss Raine injects a second element, which adds considerable depth and pathos.
The third child, Billy has been profoundly deaf from birth. The play follows Russell Harvard's character as he attempts to fly the nest and move into a proper life away from the love and stresses of living in this neurotic household.
He simultaneously finds a partner where his siblings desperately search in vain and with her a chance to re-evaluate his life.
The stand-out actor (as was Michelle Terry in the original production at the Royal Court) is Susannah Flood in the role of Sylvia. This lady is a breath of fresh air, charming, witty and sympathetic. Tragically, she is also suffering from an inherited affliction which means that her hearing is disappearing fast.
Billy and Sylvia hit it off, despite their use of different languages, lip-reading and sign respectively.
Their affection is touching to behold, especially in the context of Billy's family, who are enough to reduce anyone to tears with their determination to tell it how (they think) it is.
This is all beautifully realised by a great team of actors thoughtfully directed within Scott Pask's cleverly-designed room, which somehow feels real despite lacking walls.
After the intermission, the plotting begins to feel more contrived, as Billy gets a job and moves in with Sylvia while Daniel and Ruth suffer to excess and the parents blithely plough on.
Tribes is a very strong play that gives a real insight into the trials and tribulations of living without hearing in an unsympathetic world. It is also a massively amusing portrait of an eccentric family.
It does seem that almost everything that Barrow Street Theatre tries comes off and a 10 month run for an Off-Broadway production in a small house speaks volumes. The fact that this is the second year running (following Our Town through 2011) that they have managed the feat says even more.
Reviewer: Philip Fisher