Twisted Tales
Roald Dahl
Lyric, Hammersmith
(2011)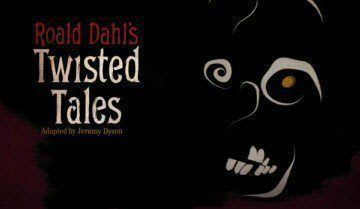 These days, as his popular writings for children are so prolifically reissued and transformed for both large and small screens, not to mention Matilda's recent stage incarnation, one could easily forget that Roald Dahl also wrote for adults.
A generation ago, his Tales of the Unexpected became compulsive prime time television and these five Twisted Tales derive from the same sinister mind-set.
Dahl is a master not only of the unexpected but portrayal of the unpleasant side of the supposedly civilised. Indeed, the squeamish might find some of the experiences packed by adaptor Jeremy Dyson and director Polly Findlay into a lovingly-created 80 minutes quite disturbing.
A well-drilled ensemble of six swap roles with alacrity in a simple, breezy staging by Naomi Wilkinson, helped by a revolve and flying props, which on occasion create magical visual effects.
Framed by the arrival of a wag in a commuter railway carriage in the days when pounds, shillings and pence still held sway, the stories start with a short confection about a cackling granny with penchants for taxidermy and handsome youngsters.
Perhaps the best-rounded and wittiest tale comes next and features an inconstant wife undergoing torture by dead mink and getting the comeuppance that she would richly deserve, were her husband not equally unfaithful.
Like the characters in the remaining offerings, Miss Findlay then becomes somewhat sadistic taunting her audience by drawing out the remaining dénouements.
First, we meet a cocky young American who bets an ounce of flesh to a Cadillac with a Latino Shylock. The tension builds to a tortuous high before a rather limp ending.
A terminally ill control freak is given the chance of eternal existence by a mad professor. His sub-Faustian pact doesn't give him much pleasure and leaves us witnessing the prospective equivalent to eternal damnation on earth.
Finally, another sadist (a Dahl speciality) plies his trade at Repton College in 1913 before apparently meeting his old fag a couple of World Wars later. The closure has a wickedly clever twist, as one might expect from a master of the unexpected.
This short evening is much more a diverting entertainment than high art but Roald Dahl's reputation ensures that audiences for Twisted Tales will get just what they are looking for.
Peter Lathan reviewed this production at Northern Stage, Newcastle
Reviewer: Philip Fisher