Valued Friends
Stephen Jeffreys
Rose Theatre Kingston, The Original Theatre Company, Karl Sydow
Rose Theatre Kingston
–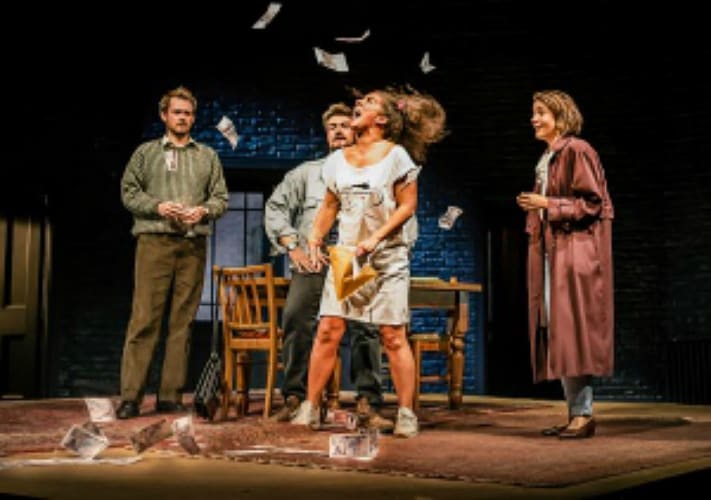 In those heady days of Thatcherism, something changed in the way people came to regard their homes. Britain was to become a "property-owning democracy", a phrase used by Thatcher to refer to the way people would be empowered by the sale of council houses and the ever-increasing value of the property market. Everybody could make a profit on property.
Stephen Jeffreys's Valued Friends, first seen at the end of the 1980s, explores this brave new world through the experience of four friends in their thirties, renting a basement flat in Earls Court as property prices in the area start to rise.
The play opens with Paul (Sam Frenchum), a music journalist, and Marion (Catrin Stewart) returning from the concert of a band that made their name in the 1960s. Their flatmate Sherry, a stand-up comedian, is in the midst of telling Howard about a peculiar tube journey.
All four seem relaxed and seemingly living in the moment. But Howard has heard some news about the house.
Property developers represented by Scott (Ralph Davis) have bought up the building they live in. But they are not interested in being landlords. They intend a bit of improvement to the block and then to sell it on as a set of flats. That means getting rid of the cheap renters and moving in the rich buyers.
However, the four friends see it as an opportunity to make money rather than be bought out for a few thousand. They decide to hold out for sufficient money to buy into ownership of their own.
But this creates tensions, causes fractures in their friendship and exaggerates their differences. In the process, valued friends become an obstacle to their pursuit of property values.
Sherry (Natalie Casey) is impulsive, living hand to mouth. She is nowhere near ready to become a property owner. In contrast, Marion feels she is reaching an age where she wants to have a child. Howard (Michael Marcus) just wants to get on with writing an economic book about the myth of recovery, which no-one is yet interested in publishing, because it's the 'greed is good' decade in which the recovery never ends.
This is a confident, fluent performance of a gentle, believable story about a cultural shift in Britain's approach to homes. But the dramatic engagement of the characters, which is the main pull of the show, does now pale in comparison to say the fast-paced, more complex, rough stories of, say, the 1990s television programme This Life.
Reviewer: Keith Mckenna