Uncle Vanya
Anton Chekhov
Maly Drama Theatre of St Petersburg
BITE:05 Barbican Theatre
(2005)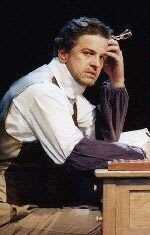 Every year, the Barbican comes up with some real gems of theatre from around the world. Already, BITE:05 has presented Deborah Warner's star-spangled Julius Caesar and the performance art of Laurie Anderson.
Even these wonders may struggle to compete with a visit from the Maly Drama Theatre of St Petersburg, under its world-renowned director, Lev Dodin.
His vision of Uncle Vanya is funnier than one could possibly expect, at least in part because where Chekhov was a little short on gags, Dodin has helped out a little bit. With superb acting from the whole company and a deliberately leisurely pace to reflect the futility of life amongst the indigent gentry, there is though far more to this production than merely some comic moments.
The director has really imposed himself upon this production, as several of the protagonists are viewed in ways that are unfamiliar.
The depth of unhappiness is reflected by the whole party that gathers at a home of Professor Serebryakov, played by Igor Ivanov as a man who appears to be in constant agony that is not even alleviated by the presence of his beautiful young wife Elena (Ksenia Rappoport).
She effortlessly causes unhappiness and mayhem to the whole of the rest of the group by doing no more than being sadly beautiful.
The gigantic Sergei Kuryshev's Vanya, a man at the end of his tether after 25 years of uncomplaining servitude to an unappreciative master, would happily die at her feet. His niece, Sonya, a girl with beautiful hair but a plain face, played by Elena Kalinina pales by comparison, while the man whom she admires to distraction, Dr Astrov (Petr Semak) is in thrall to Elena.
The scenes of reluctant passion between the exhausted doctor and the beautiful young wife are very funny with the last of them, interrupted by the arrival of family and retainers, especially so, even though it does not feature in English texts of the play.
Dodin wonderfully creates the atmosphere of ennui in a staging that is simple with David Borovsky's set consisting of a wooden playing area overshadowed by three large haystacks conjured up by the line "chasing dreams while the hay rots". These symbolically represent an estate that is no longer economically viable and hangs over the heads of its residents. In the final moments of resignation an acceptance, it sinks slowly to ground level.
This atmosphere is enhanced into images that could have emerged from an art gallery, thanks to the wonderful lighting design by Ekaterina Dorofeeva and Vitaliy Skorodumov.
The play is performed in Russian but with excellent supertitles to the sides of the stage. It seems unfair to select one or two acting performances from such a superb ensemble and, indeed, everybody may well have their own favourites. It is unlikely that too many audience members will be able to pick out any that they do not enjoy immensely.
This three-and-a-quarter hour production has already won awards as it has toured around the world and the only pity is that its London residency lasts less than one week.
Reviewer: Philip Fisher