WAG! The Musical
Book by Belvedere Pashun, music & lyrics by Grant Martin, Thomas Giron-Towers and Tony Bayliss
Peter Frosdick Productions and Paul Nicholas
Charing Cross Theatre
–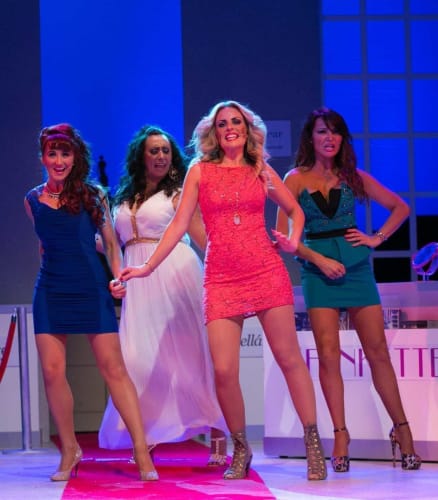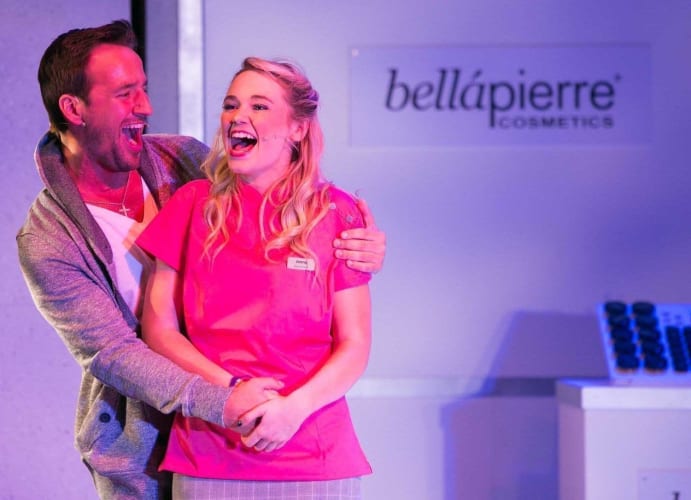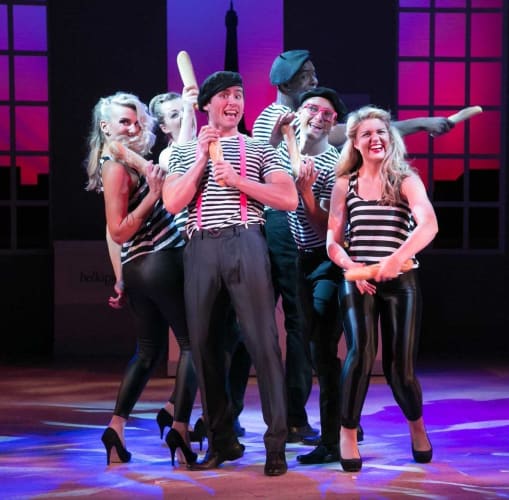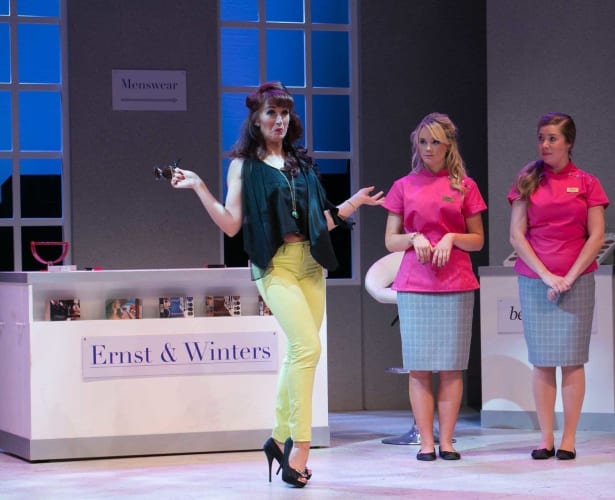 The cast of WAG! includes some real ones—footballers' wives and girlfriends—but the story centres on a couple of shop girls who work on the cosmetics counter of a department store.
They are Sharon (Amy Scott), who has a boyfriend who says he loves her but treats her badly, and Jenny (Daisy Wood-Davis), whose boyfriend is a bit of a secret: he does turn out to be a footballer, a married one.
They are a pair of nice, unpretentious lassies whom the actresses give lots of personality and one could wish the story stayed with them as Sharon realises that odd-job man/cleaner but secret songwriter Pete (Chris Grierson) who carries a torch for her is way nicer than her current bloke, and Jenny, who has been promised a life in Italy with her lover, faces disillusion.
Instead the action keeps shifting to their customers, would be fashionistas who include former real-life WAG Lizzie Cundry as Zoe, who seems to be involved with gay store manager Mr Frank in staging a celeb fashion show, still real-life WAG Pippa Fulton as Jenny's lover's wife, Nia Jermin as a Welsh WAG and Alyssa Kyria as a Greek one. Tim Flavin is stuck with Mr Frank. It is not his fault the part is pretty well unplayable except as a sort of Are You Being Served send up.
Most of the music is pleasant enough but much the same except for an attractive duet for Sharon and Pete. The performers give it plenty of attack but largely the numbers go too fast for comprehension, though that may be a virtue because the lyrics flaunt their coarseness in the guise of humour.
The set is simple but the frocks glitter and it's a show where the lighting changes for every number, the sky behind the silhouetted London skyline turning red whenever the song is introspective. This show isn't subtle.
The central youngsters that give it some heart are swamped by everyone else over-performing, though it has to be admitted that however non-PC Katie Kerr's Blow-Jo, no WAG but a large lady who works in a chippie but buys expensive bling to display her style, is funny despite its unkind caricature.
Well into the second half, the entrance of Alyssa Kyria's Ariadne Thessalonikos fuels the show with a fresh burst of energy. It doesn't have much to do with the rest of the evening but this is an over the top cabaret act that is a hoot.
Not pencil-thin, she describes herself as the WAG who eats and tells all and sundry she and her husband sleep in separate rooms so that she can see other men—a nice reversal of what's going on elsewhere in the plot.
Reviewer: Howard Loxton