Waiting Like a Man
Daniel Benoliel
Old Red Lion Theatre
(2011)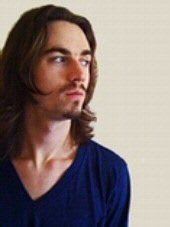 Performed by the writer under the direction of Tom Cornford, this is the story of one boy's growing up that looks back three earlier generations to his great grandfather's murder and forward to the birth of his first child. It is, at least partly, based on fact.
The character Daniel's father (perhaps his real one), an invalid for decades with the last spent in a wheelchair, was not the sort of dad who took you to a football match but he was intelligent and a hard worker. He set up a pharmaceutical consultancy that was very successful until actor Daniel and his mother tried to run it after her husband's death
It was not until his father died, the day before Christmas in 2006, that Daniel found out about his great granddad's death. There was just one page of information in his father's neatly kept files and he set about finding out more. That is what this show is about
It is presented very simply against black walls with a single white chair and a white lidded box on which are projected mobile phone video clips of Daniel at the National Archives in Kew, a census page, a photograph of his great grandfather's murderer and a womb scan. This isn't just about the murder; it is about Daniel's own feelings and unpreparedness on the thought of becoming a father.
It is all a little like on of those television Who Do You Think You Are? programmes, but without the images, the social history, the historic film clips and the interviews. Benoliel does try to introduce a little dramatisation by giving us a comic impression of another wheezing researcher and presenting some of the information he gathers as a bed-time story told to a friend's child but the structure is sadly unromantic and beyond discovering a some surprising facts about the victim and his murderer there is little real story uncovered.
The flyer for the show promises "a toy soldier re-enactment of the Battle of Passchendaele and occasional YouTube marathons"; we don't get either, instead something that often feels like a lecture. It is not helped by the writing which would read well in a magazine but its long sentences and literary style does not seem written to be spoken. Benoliel comes over as a personable and pleasant young man, surely he doesn't talk like this in life? Director Tom Cornford has made some awkward stabs at being theatrical (or perhaps they are meant to be funny) but he would have done better to make it seem more natural. Or is that part of the humour? Though some people behind me were tittering for most of its 40 minutes I found little to laugh at and this seemed more an ego trip than a piece of theatre.
Waiting Like a Man, incidentally, is what the murderer said after he had killed Daniel's great grandfather. What little is discovered about him suggests there might be a real drama to be written about it.
"Waiting Like a Man" runs at the Old Red Lion theatre until 16th July 2011
Reviewer: Howard Loxton