Walter
Steve Byron
The Worriers and Alphabetti Theatre
Alphabetti Theatre, Newcastle
–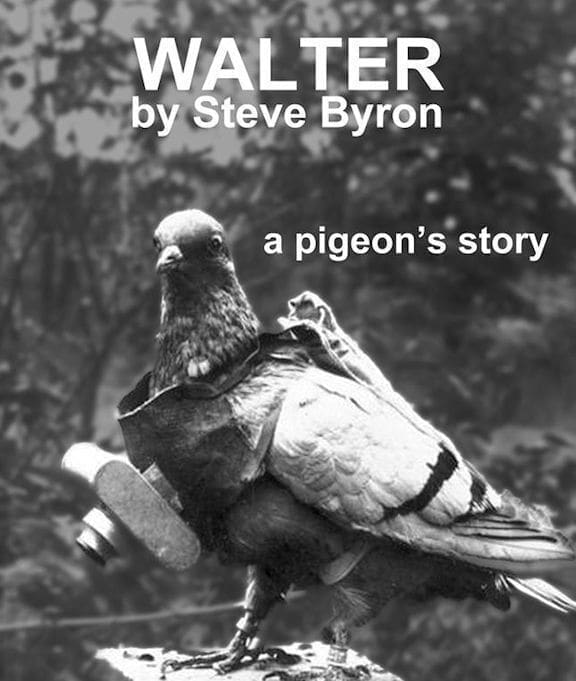 Walter is a champion homing pigeon who belongs to Bob Constantine, a sugar boiler in a toffee factory in Byker, Newcastle. Bob's a family man, living happily with his wife, Rosie, and daughter, Ivy, but in 1915 he decides that he must answer Lord Kitchener's call and fight for King and Country, so he signs up with the Northumberland Fusiliers and is shipped off to the Western Front, taking with him his beloved flying friend Walter.
Walter's not there as a pet but to carry messengers between trenches or between the trenches and HQ. He is just one of the many animals who are signed up to fight.
A big push comes and eventually Bob is pinned down with little hope of rescue so he entrusts Walter with a letter for his wife and child back in Newcastle and sends him off to make the epic journey from Northern France to North East England.
Aimed at age 8+, Walter tells a story of the Great War from the point of view of a pigeon. Humans are only ever heard as recorded voices and are never seen. It's the story of Bob Constantine, obviously, but writer Steve Byron has a huge canvas on which to tell his tale and he makes the most of it, as Walter flies above Grey's Monument watching troops marching off to war or suffers heavy shelling in the trenches or hitches a ride on a Zeppelin heading towards Newcastle.
He is, of course, a Geordie pigeon and as he launches himself into the air he doesn't shout "Away! Away! Away!" but "Howay! Howay! Howay!" as any good Geordie would.
Two actors, Samantha Phyllis Morris and Emma Crowley-Bennett, play Walter and every other animal, from Victoria, the queen of the pigeon coop, to Claudette, a French truffle hunting pig. And there's also General Haig's falcon, Sir Lancelot Proud-Beak, an arrogant, strutting beast whose condescension towards Walter echoes that of the aristocratic officer class towards the ordinary soldier.
They sing, too: not often but occasional snatches of WWI songs, most memorably the deeply moving "If you want the old battalion".
It's an idea that works well for its target audience, giving them a hero to whom they can relate and who can give them a picture of what's happening which is clear but sufficiently distanced to avoid undue distress. It's good children's theatre, and, as we know, good children's theatre is simply good theatre, with an appeal to and an impact on adults too.
Director Ali Pritchard keeps the piece moving at a good clip and Morris and Crowley-Bennett meet the challenge of the fast pace with energetic and engaging performances. No surprises, then, that kids and adults in the audience were fully engaged throughout.
There are no performances on 29 to 31 October but the play runs from 1 to 3 November at 6:00.
Reviewer: Peter Lathan