Watership Down
Book by Richard Adams, adapted by Rona Munro
Watermill Theatre Company
Watermill Theatre
–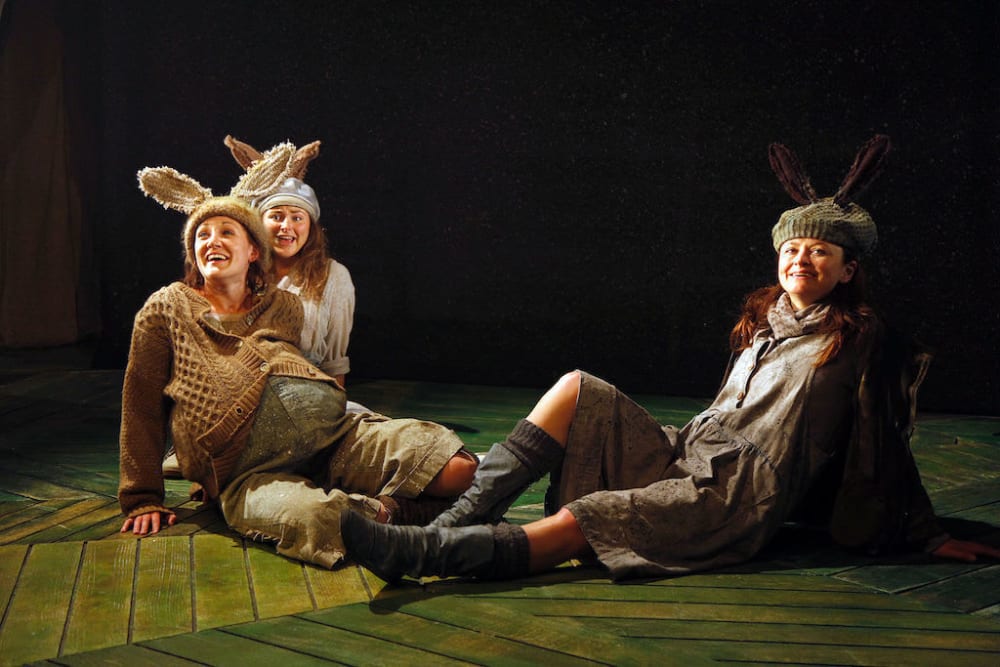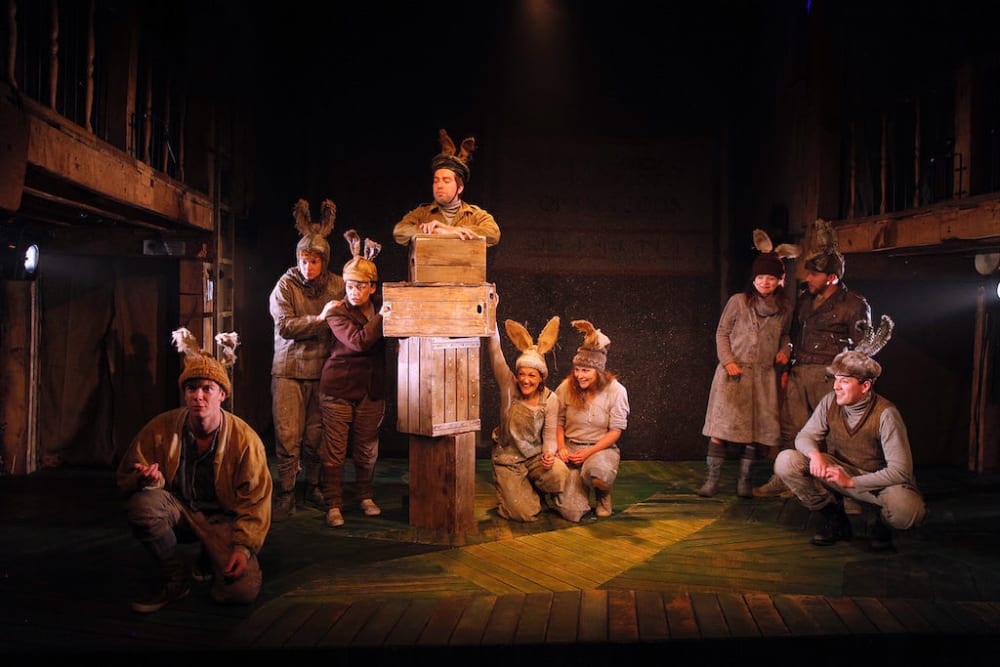 The Watermill Theatre's superb production of Watership Down is lovingly brought to life by a multi-talented cast in this splendid adaption of Richard Adams's book by Rona Munro.
It is an immensely physical staging, brimful with playfulness and energy. It is tremendous fun and compelling to watch.
The play starts with a young seer rabbit, Fiver, impressively played by Alexander Morris, having a frightening vision of the destruction of the Sandleford warren. Together with his brother Hazel, the excellent James Backway, he tries to convince the chief rabbit of the urgency of evacuating the warren but to no avail.
They decide to leave together with a small group of followers in search of a new safe home, but their journey to Watership Down is hazardous. Thankfully, they have the strong cunning Bigwig, strikingly portrayed by Richard James-Neale, to help protect them but he is nearly killed when he is caught in a snare.
Quite soon, they realize that they are going to need to find some does if they are going to survive.
Edward Bennett gives a powerful performance as the ruthless, tyrannical, evil General Woundwort who is holding the females prisoner and refuses to let any of them leave the overcrowded warren. The brave Bigwig goes undercover in an attempt to rescue the does and the clever buck Blackberry (Joseph O'Malley) is charged with helping to plan the escape strategy.
Life is harsh in the Efrafan warren. Blackavaar (Jess Murphy) is severely punished for standing up to the general. Hyzenthlay (Scarlet Wilderlink) helps Bigwig in recruiting other does to join the escape party. However, Nelthilta (Vicki Manderson) informs the guards of the intended plot to escape.
Charlotte Bate is commanding as the arrogant Russian gull Kehaar, who has an injured wing and is looked after by the rabbits and in return she helps them find the does in their struggle with the Efrafan warren.
This is certainly a rollercoaster ride of emotions, particularly with the poignant ending that brings a tear to the eye.
There is so much to enjoy in this vibrant production, from the excellent ensemble work to the foley-style sound effects and the spirited songs, music (Dom Coyote) and dancing.
Naomi Said's fine movement direction enables the cast to fully create the rabbits' gestures in a believable style and Matt Hutchinson's puppets are beautifully created and operated.
Inventively and skilfully directed by Adam Penford and cleverly designed by Richard Kent with atmospheric lighting by Jack Knowles, this is a thoroughly enjoyable family show that thoroughly deserved the audience's rapturous applause and is certainly a must-see production.
Reviewer: Robin Strapp