When We Dead Awaken
Henrik Ibsen, adapted and directed by Kjetil Bang-Hansen
The Norwegian Ibsen Company
The Coronet Theatre
–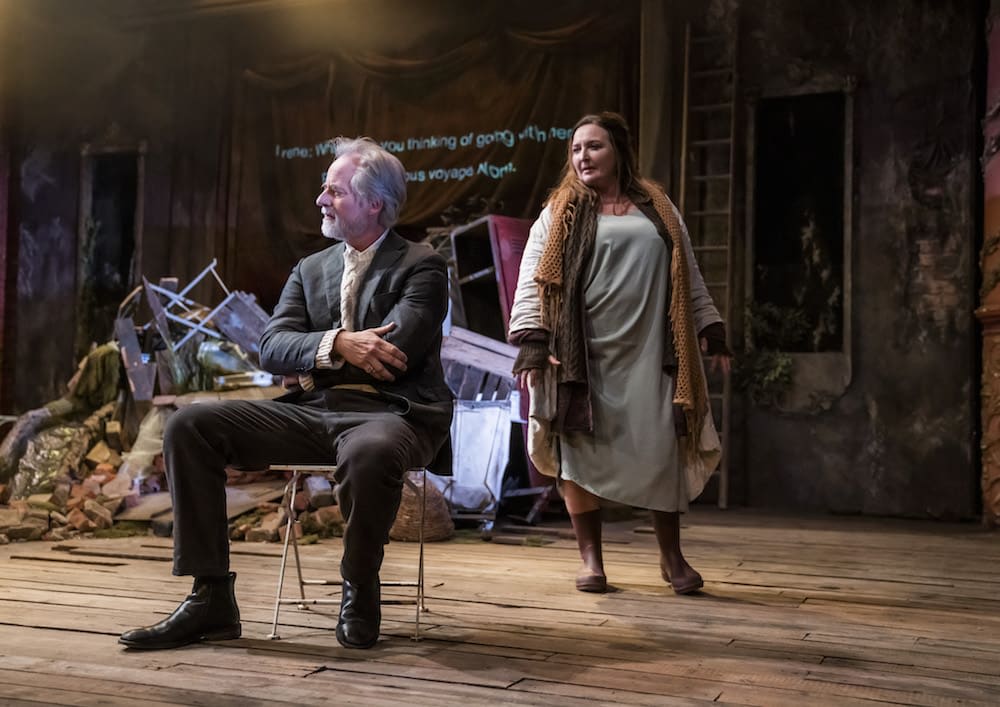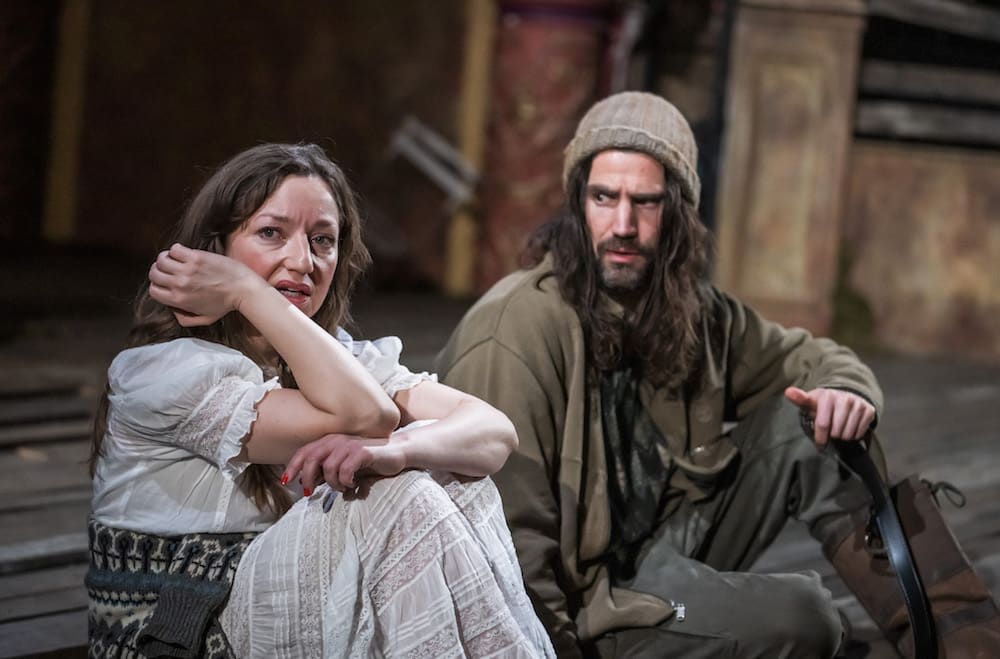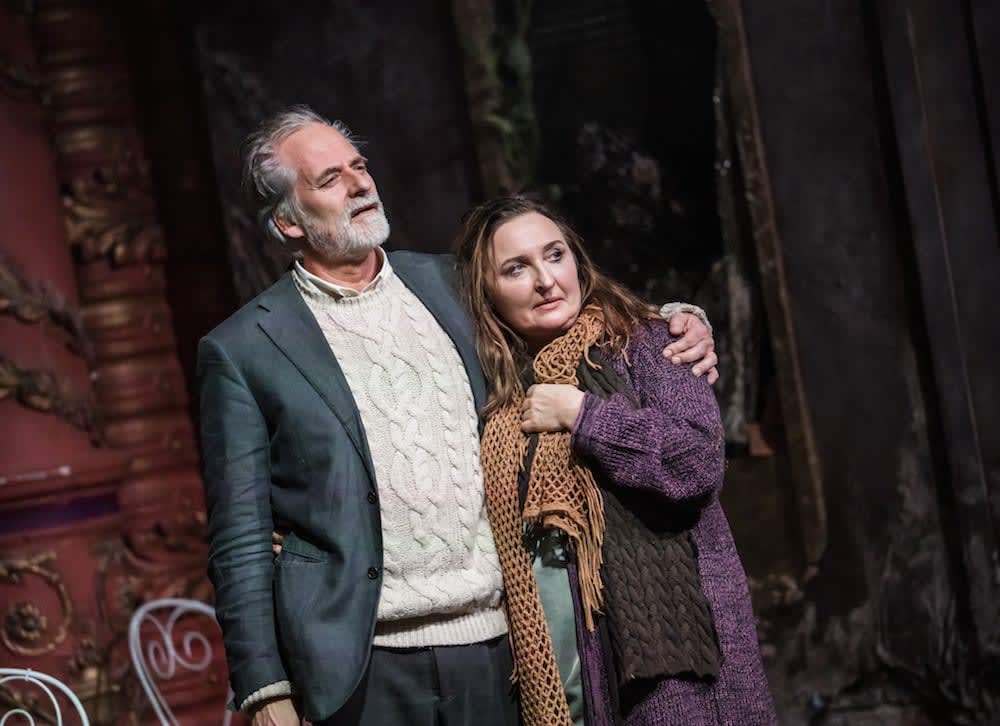 Mayou Trikerioti's set tells us all we need to know about Ibsen's last play. Is it symbolic of a wrecked world (one can't help but think of Ukraine, and Andrei Tarkovsky's prophetic films), of a revisited past that is not the remembered idyll (I think of the 1968 film of John Cheever's The Swimmer). Or is it all delusion / illusion? Life's a dream…
Or maybe this is purgatory. Or the hell that is life. The spa, that famous sculptor Arnold Rubek (Øystein Røger) and his frustrated young wife Maia (Andrea Bræin Hovig) visit, is overgrown, furniture and rubble piled high as if for a bonfire (of the vanities?), windows boarded up. A stream runs through it. Nature will take its course. A strange woman, Irene, and her keeper haunt the place.
And then there's Ulfhejm (James Browne), a man of the earth, a 'bear hunter', whose organic ways intrigue Maia after four years trapped in Arnold's gilded cage. Arnold promised to take her up the mountain and show her the glories of the world. Seems he had promised it to Irene too. In their younger years she had been his model and muse for a sculpture that made his name.
Irene had given his male gaze her naked body and he took her soul. This is so modern and there are snorts of recognition. She married twice, but she has always been his, she gave up everything for him. An artist, a poet, a false friend, he destroyed her. Chekhov's Seagull, anyone? Maeterlinck's Les Aveugles, too?
Rubek, self-centred, bored with his young wife, thinks he and Irene can go up that mountain again and renew their relationship. The mountain thinks differently. How will they do the avalanche I wonder (another one so soon after Force Majeure…)? They become narrators of their own demise. Maia, on the other hand, finds freedom with l'homme sauvage, who carries her down the dangerous mountain path.
Is Ibsen's last play (1899) a personal expiation? It's certainly a synthesis of his earlier works. It's a must-see for Ibsen fans, especially as it's in Norwegian with some English thrown in—probably to give a sense of his universality and to accommodate James Browne's Irish-tinged English as the animalistic Ulfhejm. Do most women prefer a bit of rough to a pillar of society?
Director Kjetil Bang-Hansen (his first production in the UK) has made some cuts and this short play comes in at about seventy minutes with no interval. But some of his cuts do Irene von Satow (Ragnhild Gudbrandsen) no favours. Why is she being followed by a silent woman in black (Luisa Guerreiro—in the text a nun)? Why is she not in white as in the original, a ghost-like figure? Reading the play one understands that she has been in an asylum—life is a straitjacket.
There is much enigmatic symbolism: Lohengrin's white swan is recalled by her, Irene speaks of being dead, she carries a knife, there is some mystery surrounding her. I see anguish but little mystery in this older woman in brown cardigan, brown scarf and brown wellies. The Munchian woman in white is Arnold Rubek's frustrated wife Maia. But she will not throw life away. Are we all interchangeable? Will Maia grow into a bitter older woman?
This is Kjetil Bang-Hansen his first production in the UK—and I must quote his take on the play: "When We Dead Awaken is a strange, beautiful and bitter play about art, love, ambition and freedom. Like a musical quartet, 4 people, 4 elements, 4 voices, 4 instruments play different songs in a complicated melody. It is a play for our time, as they find themselves living in a changed world. Bewildered, how do they move forward?"
But what strikes me most is that the audience is laughing, a modern audience recognising the putdown of the selfish privileged artist. Laughing at his self-esteem ("we artists") and self-delusion that Irene could "unlock" his talent again (another 'episode' in his life). She calls him "an artist not a man". Ibsen taking sly pot shots... I look forward to more visits from The Norwegian Ibsen Company.
Reviewer: Vera Liber