Whipping It Up
Steve Thompson
Bush Theatre
(2006)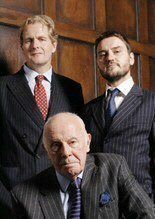 Time will tell but it may transpire that the funniest joke in Steve Thompson's political comedy is the idea that the Tories will be in Government by 2008. That is not to say that there aren't loads of good laughs in this sort of step-grandchild of Yes Minister.
Thompson already has a big fan club following his newspaper drama, Damages, also produced at The Bush, where he subsequently became Writer-in-Residence. This time, Artistic Director Mike Bradwell must have at least half an eye on a West End transfer, with Richard Wilson leading a cast directed by the ever-popular Terry Johnson, fresh from Piano/Forte.
Whipping It Up is set in the Conservative Whips' office on a night when the party is desperate to protect a majority of only three from a potential defeat in a debate about the benefits of taxing gypsies and boy scouts. The prospective revolt is the start of a coup from within their own party, although Labour are happy to help out.
We are initially introduced to the unscrupulous pair of Alastair and Tim, played by Robert Bathurst and Lee Ross. They are in the process of persuading a gay tyro that a wrong vote so early in his career would be unwise. In time honoured fashion, their main weapons are bullying and bribery.
Having set the scene, the play instantly takes off with the arrival of Victor Meldrew dressed as Santa. This crotchety, unnamed Chief Whip has a great knack of coming up with pithy if incredibly foul comments about a wide range of subjects starting with beetroot and the attractions of little girls.
Making an all too rare stage appearance, Richard Wilson's timing is perfect as his character shows us what unswerving loyalty really means in this context and makes great use of almost all of the play's best lines. He also has the advantage of playing the most fully realised character.
The plot thickens (at least a touch) with the arrival of a typical Terry Johnson blonde. Fiona Glascott's Maggie is buxom with few clothes and seems set on blackmail even before we discover that she is, of all things, an investigative journalist. The only surprise, given her modus operandi is that she represents The Observer rather than the News of the World.
Just when the silliness threatens to get out of hand, the opposition whip, played by a wonderfully straight-faced Helen Schlesinger, brings some necessary gravitas and competitiveness, as the parties vie in a kind of dirtiest trick competition.
The build up to the big vote with 70 opposition members off having a Christmas dinner with a trade union and the PM delayed in the States provides for rich comedy. Even though some of the jokes can be predictable, especially those involving the blonde journalist, enough hit their targets to ensure that the audience goes home chuckling happily.
Whipping It Up is a play about politicking far more than politics. There is a good chance that it has what it takes for a West End transfer. With Richard Wilson and Helen Schlesinger on top form this seasonal comedy should be a success and thus a springboard for the writer.
It may well be that like Alastair Beaton, who has also brought Westminster to the stage for laughs, Steve Thompson eventually gets rich writing satire for TV or radio sitcoms.
John Thaxter reviewed this production when it transferred to the New Ambassadors
Reviewer: Philip Fisher