The Winterling
Jez Butterworth
Royal Court Theatre Downstairs
(2006)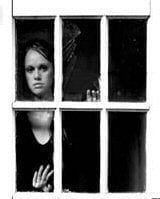 Even with the awesome power of the Internet, it is hard to find a definition of a winterling. That is somehow appropriate on this occasion, since meanings can be equally hard to pin down in Jez Butterworth's play.
The general conclusion from a quick surf is that a winterling is an early crocus, presumably heralding the joys of spring and, not too far off, summer.
Jez Butterworth sprang to fame with Mojo, a classic gangster comedy that opened almost ten years ago at the Royal Court under Ian Rickson and was subsequently filmed starring Harold Pinter. The influence of the older playwright is now seen on so many plays and, following Mark Ravenhill's The Cut at the Donmar, The Winterling is the latest in that line.
An air of menace is introduced by designer Ultz before any character appears on stage. An empty suit hangs centre-stage in a Dartmoor farmhouse like an executed man. It only partially blocks a fireplace with a cow's skull above and a variety of farming implements attached, each of which could easily be used for torture or murder.
Rather than somebody's home, this is an abandoned building that is occupied by a series of offbeat individuals, both locals and petty London gangsters.
The opening scenes in this two-and-a-half-hour play do little to play down the discomfort. Between screaming air force jets, Robert Glenister as West, the Lord of this dishevelled manor, meets and then dismisses Draycott, an old tramp (Trigger from Only Fools and Horses, Roger Lloyd Pack) whose conversation suggests that he is close to madness.
Some levity is then injected in the form of a classic comic duo of London thugs. Soldier Soldier heartthrob and sometime pop-star Jerome Flynn's long haired Wally is a bully whose history with West goes back a long way. He has rolled up for a reunion accompanied by a young man who may be his common-law stepson.
This is the star of the night, Daniel Mays' mud-covered Patsy, a vain but cheerful youngster who looks and moves with the sinuous fluidity of a lead singer from an Eighties Ska group.
For half-an-hour or so director Ian Rickson ensures that every drop of comedy is drawn from a classic situation combining townies in the heart of rural Devon; with meetings between tight-lipped gangster types who might have co-starred an anglicised version of The Godfather.
After the interval, Jez Butterworth begins to play with form and time. Similar situations are replayed with characters taking lines previously used by others, while absurdity is emphasised, particularly by a new entrant, Lue (Sally Hawkins). In an irritating, high-pitched drawl, she talks of her desire to fly away but never does so.
We also travel back in time a year to see Draycott and West's roles reversed but it soon dawns that with numerous power shifts nobody fully owns their own character. This means that one person's behaviour may be taken over by another as easily as his or her lines.
The Winterling can be a difficult play but contains rich veins of comedy. In addition, this trip to Dartmoor might initially seem to support the tradition of country life as red in tooth and claw. In this case though, the reddest teeth and claws have come from the Big Smoke.
Reviewer: Philip Fisher