The Woman Before
Roland Schimmelpfennig, translated by David Tushingham
Royal Court Theatre Downstairs
(2005)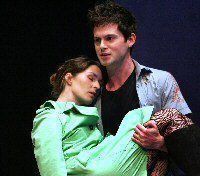 The Royal Court has had very few disasters over the last couple of years but too few real delights. While pitch-black German existential comedies are not to everybody's taste, this hilarious and beautifully realised example is as good as it gets.
The Woman Before has much in common with David Gieselmann's seminal Mr Kolpert, a play that opened here Upstairs at the Royal Court. Subsequently, it has built up a cult following and is regularly revived. In the UK, the plays have the same director, Richard Wilson, and translator, David Tushingham, and the style, themes and plotting make the two close Teutonic cousins.
Only Caryl Churchill and Martin Crimp amongst British writers can compare with the Germans when it comes to this kind of experimental black comedy. We must therefore be grateful to the Royal Court for importing these and other important and very enjoyable German works; and giving The Woman Before space in the larger Downstairs Theatre.
Frank and Claudia have been happily married for nineteen years. Nigel Lindsay plays the embarrassed Frank, while Saskia Reeves is his soon-to-be-wounded wife. Together with their handsome graffiti-artist son, Tom Riley's Andi, they are leaving the country for an eagerly anticipated new life.
Things fall apart in an instant with the arrival of a beautiful visitor in a lime green coat. Romy Vögtlander stands on the doorstep and calmly announces that she and Frank were lovers for a summer 24 years before and that as he had vowed eternal love, she has come to collect on his promise.
It cannot come as a surprise that Claudia is less than enthusiastic at the idea of giving up her husband. As the plot develops, Andi, who has just bade a final farewell to his spunky girlfriend Tina, also gets drawn in. The wide-eyed Georgia Taylor (like Riley making a successful stage debut) in the latter role is both chorus and comic storyteller.
Andi is a real chip off his father's old block and in no time has forgotten his love for Tina and is seduced by Romy, the glamorous Helen Baxendale looking nothing like her character's forty-plus years. By the next morning, the visitor, cool as a cucumber, has left bizarre carnage in her vengeful wake.
The Woman Before is compiled from numerous short scenes split by blackouts, lit with a green neon frame that matches the anti-heroine's coat. Time travels backwards and forwards with repetitions of action and speech that rarely seem unnecessary, as each repeat illuminates the previous scene.
This wonderful play is extremely funny and oozes style. Richard Wilson excels in his direction and timing of this type of comedy and is helped by good performances all round. The 75 minutes are over in a trice and leave viewers who enjoy this kind of dream-like work wishing that the pleasure could have lasted twice as long.
Reviewer: Philip Fisher