Woyzeck
Georg Büchner, adapted by Daniel Kramer
Gate, Notting Hill
(2004)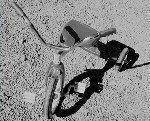 One of Thea Sharrock's greatest successes during her time at Southwark Playhouse was Daniel Kramer's adaptation of Through the Leaves with Sir Simon Callow. It achieved a rare West End transfer and gained Sir Simon's acting partner Ann Mitchell a Best Actress nomination.
For the second production at the Gate under her leadership, Miss Sharrock has given Kramer rein to re-create a German classic, Woyzeck.
He is very much the auteur, adapting the script anachronistically using his sometimes too vivid imagination, with the assistance of a soundtrack featuring Elvis Presley supported by Dolly Parton and various German classical composers.
Kramer veers between many moments of imaginative genius to over-the-top affectation, commencing with an unforgettable initial tandem ride on a child's tricycle. We then see inter alia, a circus with human animals, burlesque and love and hate, as the eponymous military barber swiftly leaves behind obedience and an animal passion that constitutes his version of happiness.
From there he descends into his own (syphilitic) hell as Marie, his love and mother of his child, is seduced by a drum major. Soon Woyzeck's mind goes, even before he undergoes a graphic but beautifully realised assault at the hands of his cuckolder. At the last, very movingly, the fiery man drowns in a tank of water onstage.
The production is full of visual and aural fireworks but Büchner's political and human undercurrents are allowed to peek through. As a working soldier with a poor lover, money is short and the playwright denounces the class-ridden society that allows this. Eventually, despite the love that Woyzeck and Marie share, the only way to feed their son is for her to fall.
The Gate may not be a fashionable venue for awards judges but Edward Hogg's breathless performance as the increasingly shaky, speeded-up anti-hero deserves recognition. He gives so much of himself both mentally and especially physically that he will not need a gym membership during the run (no pun intended).
The support is strong with a moving performance from Myriam Acharki as Marie and comic ones from Josh Cole playing a grubby showman and Tony Guilfoyle, a transvestite army doctor.
The evening, though, belongs to the tremendous Edward Hogg and his adventurous director/adapter.
Reviewer: Philip Fisher