A grim history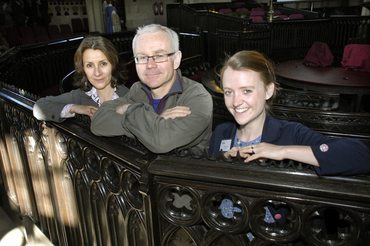 When 10 people were hanged on a hill outside Lancaster 400 years ago it proved to be only the start of an enduring story that was to cast a dark stain on the history of the county, the country, its courts, even the monarchy.
This year marks the 400th anniversary of the execution of the Lancashire Witches and amongst several commemorations Lancaster's own theatre, the Dukes, has revived and re-worked its drama about the event—Sabbat.
As well as being staged at its own Moor Lane venue, the theatre is also to take the production on a small-scale national tour.
On Good Friday 1612 a secret meeting of Lancashire witches, a Sabbat, allegedly held high on a hill in the wild and lawless area of Pendle—one of the "dark corners of the land"—was to lead to that other hill, in Lancaster, where 10 people are hanged for witchcraft.
The Dukes Theatre is just next door to the Golden Lion pub where the condemned were said to have had their last drink on their way to execution.
Sabbat enjoyed a record-breaking run when it was first staged at The Dukes in 2009. It concentrates on the human story set against a climate of fear and superstition, and attempts to unravel the mysteries still surrounding the trials.
The story has an enduring fascination for the public as Dukes director Joe Sumsion explains: "People seem to be drawn to the subject for all sorts of reasons—ideas of scapegoats, victims, religion, social class and gender all have a part to play and when you add in superstition, magic and revenge, the subject becomes all the more compelling. It is about what the past means to us now."
He is also delighted that the theatre is able to take an example of some of its best work to other parts of the county, and the country.