Introduction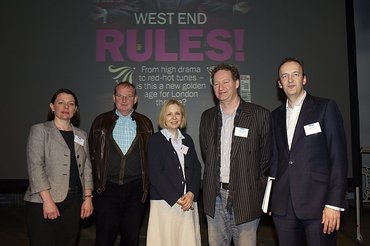 What was that gaggle of people I saw on Sunday gathered in front of the closed shutters under the portico of the Theatre Royal Haymarket at 9:30AM? I heard yawned complaints at having to get up so early on the one day of the year when the clocks go forward and you lose an hour's sleep.
It was a strange mix of anoraks and city suits, student types and pensioners, even a smart looking guy waving a smartly-packaged DVD and telling people about a series of documentaries on London theatres. Was it a day seat queue for a special Sunday show of the National Theatre hit One Man, Two Guvnors that's currently playing that theatre?
No, they were waiting, none too patiently, for the doors to open on an innovatory project under the title The Heart of the West End. It was a conference set up by Royal Holloway, University of London, in collaboration with the V & A and the Theatre Royal, which was hosting the event in its historic auditorium with some additional support from Cambridge University Press and the Society for Theatre Research. It was not strictly a weekend either, but a two day event through Sunday and Monday.
Bringing together academics and representatives of the commercial theatre, scholars and practitioners, its aim was to look at the history, the current state and the future of our West End theatre. Over two days, what was on offer ranged widely. It brought up many issues: the need for affordable theatres where producers could put on fringe-scale shows; for spaces for shows that don't fit in conventional theatre building; for the West End Theatre to connect more with the public; the danger of being too London-centred and the need to collaborate with the regions.
The cost of West End seats was a concern, in terms of a "night out" and especially the effect that ticket agencies, internet resales and touting have. Could there be legislation to control it as well as a plea to end VAT on tickets? Why do so few, even in the profession, take an interest in the theatre's history and celebrate it?
Most of the academic papers presented over these two days were looking backward but how can academia contribute to the theatre of the future, how can it aid development both in the profession and among audiences? Perhaps this conference has begun to spark off that debate. There is a long way to go, but the wide participation in the event and the enthusiasm of the organisers suggests that there is a genuine will to forge ahead.
What follows is a long report of what was covered but even that is only an outline of the papers and panels presented.