2:22 - A Ghost Story
Author(s): Danny Robins
Company: Runaway Entertainment
Running time: 2h approx
Age recommendation: 12+ years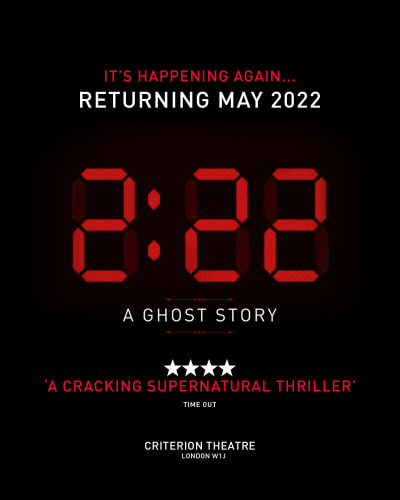 What do you believe? And do you dare discover the truth?
"THERE'S SOMETHING IN OUR HOUSE. I HEAR IT EVERY NIGHT, AT THE SAME TIME"
Jenny believes her new home is haunted, but her husband Sam isn't having any of it. They argue with their first dinner guests, old friend Lauren and new partner Ben. Can the dead really walk again? Belief and scepticism clash, but something feels strange and frightening, and that something is getting closer, so they're going to stay up... until 2:22... and then they'll know.
2:22 - A Ghost Story features set design by Anna Fleischle, costume design by Cindy Lin, lighting design by Lucy Carter, sound by Ian Dickinson for Autograph Sound, casting by Jessica Ronane CDG and illusions by Chris Fisher, co-direction by Isabel Marr.
Performances