£2.8m for First Folio
Published: 14 July 2006
Reporter: Peter Lathan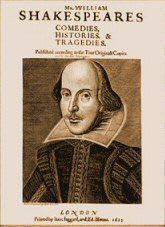 A copy of the Shakespeare First Folio, one of only forty complete copies out of a print run of around 750 and in its original seventeenth century binding, with annotations by an early owner, has been sold at Southeby's for £2.8m, a UK record price.
There are 36 plays in the complete copy, eighteen of which (including Macbeth and Twelfth Night) were printed in it for the first time. It was published in 1623, seven years after Shakespeare's death. The 900 page book was edited by two of his fellow actors and friends (to whom he left money in his will to buy rings to remember him by), John Hemminge and Henry Condell.
The book was sold by Dr Williams's Library in London whose director Dr David Wykes told the BBC, "The library has been proud to own this remarkable copy of Shakespeare's First Folio, but its sale will secure the finances of the library and safeguard our important historic collections of manuscripts and printed books for future generations."
Around 250 copies are in existence but only forty are complete.