A hen night on BBC iPlayer
Published: 27 August 2021
Reporter: Peter Lathan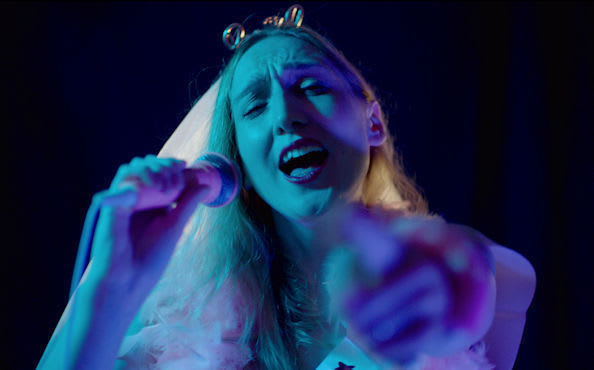 Hen Night, a short film by NE writer and director Vici Wreford-Sinnott, one of the first pieces of disabled-women-led British broadcasting, will be available on BBC iPlayer from 2 September as part of the BBC's Culture in Quarantine.
Hen Night is inspired by Frances Ryan's book Crippled and stars Nicola Chegwin, who plays the young and fiercely independent Jessica. Against a backdrop of the pandemic and budget cuts, we meet her as she returns home from a 'rush job' hen night under threat of an imminent lockdown. Her 'last night of freedom' is far from what she, or any of us could imagine, as she is told her care package is to be cut, turning the independent life she has worked so hard for upside down. As her story unfolds, we see an extraordinary mix of pride and vulnerability, and the fight that comes when you want to hold on to your independence and dignity—a fight for survival.
"We're not telling the truth about who we are as a society if the stories of disabled people are missing," says Wreford-Sinnott who is the founding Artistic Director of Little Cog, a disabled-led theatre company, and co-founder of disabled artist-led collective Disconsortia and co-founder Cultural Shift at ARC Stockton—a strategic artistic platform for disabled artists—all based in the North East. Her theatre work has toured nationally and internationally, and she is regularly a keynote speaker on the subjects of disability, representation and performance.
Nicola Chegwin is a disabled actor and screenwriter, based in the North West, who has appeared in a number of film, television and theatre productions, starring on the Emmerdale ident for the past three years along with her real-life family. She is soon to be seen as Livvie in the short film Ampudate. She will be playing the part of Helen in Laurence Clark's new play Cured when it debuts at Liverpool Royal Court Theatre before a nationwide tour.
"This is such a brilliant opportunity both to celebrate the creative talents of disabled women and also highlight the inequalities which exist in society for disabled people," adds Wreford-Sinnott. "Disabled women in particular have been disproportionately affected by the pandemic, but also significantly and historically excluded from the country's cultural landscape. Our stories have been hidden for too long, which is why it is a joy to work with both Frances and Nicola who also champion the visibility of disabled people and our experiences."