Aladdin fills Empty Space
Published: 11 December 2022
Reporter: David Upton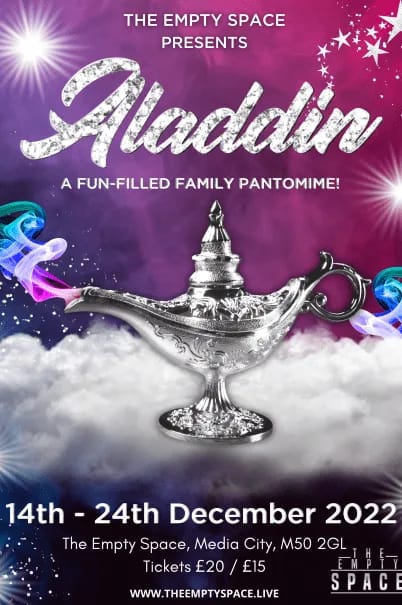 Aladdin is a family panto at The Empty Space in MediaCity, December 14–24.
Salford's newest venue is welcoming audiences of all ages.
When Aladdin finds a magic lamp, he thinks that all his wishes have come true, with incredible riches and the love of Princess Jasmine all within his grasp.
With producer and creative director Jo Fisher at the helm and writer Heather Phoenix providing the script, the show has a female bias.
Starring as Aladdin is Lancashire lass Ella Holt, the second time she has performed the role.
Heather Phoenix draws on extensive stage and screen experience for an Empress whose fearsome appearance hides a caring side, especially for her daughter Jasmine, played by Ciara-Alexandra Booker. And Ali Babakordi will be dusting off his magic powers for his role as Genie.
This is the third time playing Dame for Manchester-born Andrew Lambe, while the aptly-named Matthew Christmas is Abanazar.
Aladdin is at The Empty Space, 48 Kansas Avenue, MediaCity M50 2GL (five minutes from Broadway tram stop). Limited parking is available.
Related listings

Aladdin - Heather Phoenix