Animals musical to have première in Buxton
Published: 26 June 2023
Reporter: Steve Orme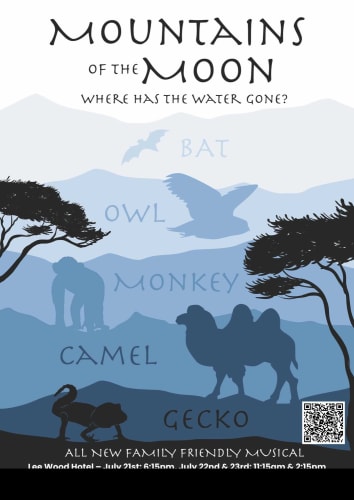 Chesterfield writer Martin Coslett and Thomas Forbes Briscombe from Brockham, Surrey will stage the world première of their "family-friendly" musical Mountains of the Moon at Buxton Fringe.
The musical began its life when Coslett was studying for an MA in writing musicals at Mountview Theatre School, London. After visits to some "amazing" theatre shows—the highlight was sitting in the pit with the orchestra at the Apollo Victoria for Wicked—he completed the first draft of Mountains of the Moon.
It features an African river running dry. Monkey, Owl, Bat, Gecko and Camel search for the Honeybird in the Mountains of the Moon, whose sweet singing makes the rain god cry. The tears will replenish the water. But Honeybird is being held captive by Eagle.
The cast comprises Eddie Waller (Gecko), at 12 the youngest member, Drew Sinclair (Bat), Simon Lewington (Camel), Rachel Roberts (Owl) and Laura Mae Mellor (Monkey). Frazer Meakin directs and the musical director is Harry Style. It will be presented by Ashgate Heritage Arts who created The Crooked Spire musical in May 2022 for Chesterfield's Pomegranate Theatre.
Mountains of the Moon will be at the Best Western Buxton Lee Wood Hotel on Friday 21 July at 6:15PM and on Saturday 22 and Sunday 23 July at 11:15AM and 2:15PM. The show may then transfer to Nottingham Playhouse.