Around the World to Lakeland
Published: 15 November 2022
Reporter: David Upton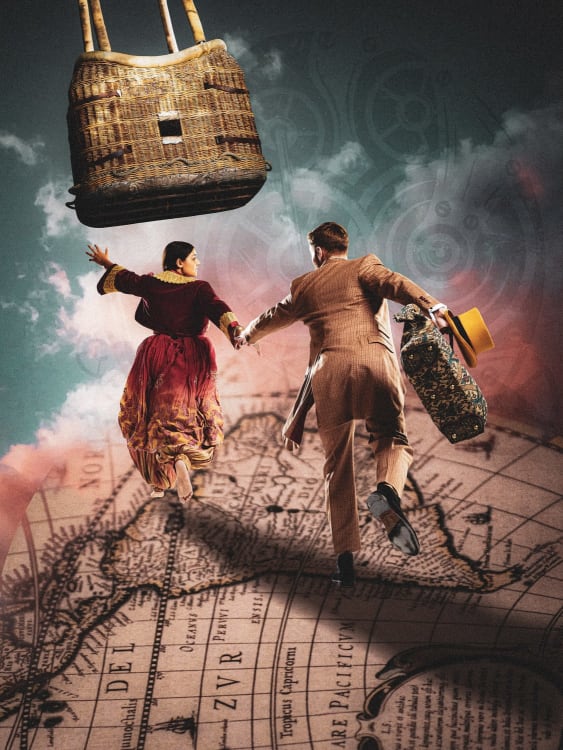 Theatre by the Lake's spring-summer 2023 season in Keswick includes five new co-productions, including its most accessible to date.
Around The World in 80 Days, based on Jules Verne's novel, is a new production by writer Laura Eason. Produced by TBTL and Hull Truck, the production is directed by Hal Chambers, who also directed The Ballad of Maria Marten which toured to TBTL this year. Around the World in 80 Days is from March 31–April 29.
The Lost Spells—A New Musical is adapted from the book by Robert Macfarlane and Jackie Morris. A girl with no name conjures up a wild world. Produced by TBTL, Goblin Theatre, Watford Palace Theatre and Polka and directed by Charlotte Westenra, it's from May 24–June 3.
Blonde Bombshells of 1943 is a new production of Alan Plaater's play with music. Betty and her band prepare to dodge Hitler's bombs and make a dangerous journey for the performance of their lives. Produced by TBTL, Octagon Theatre Bolton and Stephen Joseph Theatre, it's directed by Lotte Wakeham, who directed TBTL's 2022 co-production of One Man, Two Guvnors. It takes to the stage July 5–29.
The 39 Steps is a fast-paced mystery "for anyone who loves the magic of theatre". This Olivier Award-winning romp comes from a cast of four. Produced by TBTL and Stephen Joseph Theatre, it's directed by Paul Robinson, who also directed Brief Encounter this year. It's from August 3–September 2.
Meanwhile, Tuning In is a one-man exploration of disability prejudice. Written and performed by Adam Fenton, it was originally developed by TBTL as part of its digital Spark programme in 2021. In a first for the theatre, all performances will be both captioned and audio described. It's from June 7–15.
In addition to its own productions, TBTL will also host visiting companies through the season. How Not To Drown by ThickSkin and Traverse Theatre Company, will run between February 28 and March 2 and tells the true story of an 11-year-old unaccompanied asylum seeker.
The Winston Machine is from Kandinsky Theatre Company, and moves between the 1940s and 2020s to explore the past and its ghosts in the present. Northern Broadsides and New Vic Theatre present Quality Street, the farce by J M Barrie.
Families are catered for with live activities for little ones starting with The Adventures of The Little Red Hen by Stuff and Nonsense Theatre Company.