Belgrade scores again with FA Cup play
Published: 6 May 2012
Reporter: Steve Orme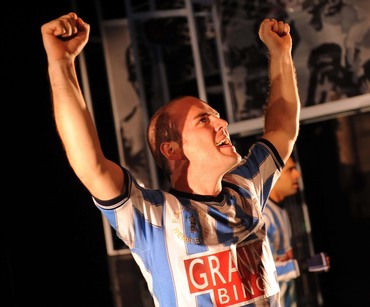 Coventry Belgrade's production We Love You City is getting a replay to celebrate the 25th anniversary of Coventry City's winning the FA Cup.
A co-production with Coventry-based Talking Birds theatre company, We Love You City features 11 players taking centre stage to recreate the final and "tell the funny, edgy, moving and sometimes farcical stories that were playing out in Coventry during those nail-biting 90 minutes—plus a bit of extra time".
Writer Nick Walker said of the original production two years ago, "The response was overwhelming. There was singing, chanting and even some old football rattles—and not just from the football fans!
"I'm hoping that the sense of optimism in the city, both during Olympic year and with the anniversary of the match itself, will mean the experience will be even more emotional."
Six of the original cast members, Richard Kidd, David Colvin, Darren Kuppan, Adrian DeCosta, John McKeever and Bharti Patel will be reprising their roles.
Bringing a fresh twist to the show will be Chris Chilton, Stephen Harper, Anna Marie Paraskeva, Richard Pryal and Clara Darcy.
We Love You City coincides with the arrival of the London 2012 Olympic football tournament, much of which will be held at Coventry City's home ground, the Ricoh Arena.
We Love You City will play in the theatre's B2 auditorium from Tuesday (8 May) until Saturday, 26 May.