Boyd announces final season at RSC
Published: 15 July 2012
Reporter: David Chadderton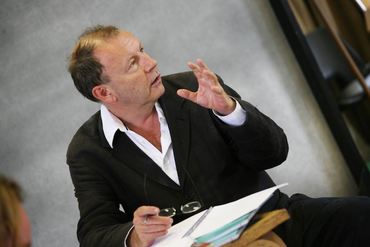 Michael Boyd has announced his final season as artistic director of the Royal Shakespeare Company.
The season will open at the Royal Shakespeare Theatre in January 2013 with The Winter's Tale directed by Lucy Bailey, which will also go on a UK tour after its Stratford run.
Following this, three Shakespeare productions will run in repertory with cross-casting: Hamlet directed by David Farr with Jonathan Slinger in the title role; As You Like It directed by Maria Aberg; All's Well That Ends Well directed by Nancy Meckler.
The Swan season will open with a new play from Tanika Gupta, making her RSC debut, called The Empress, about Queen Victoria's growing attachment to one of her Indian manservants inside the royal household amidst the beginnings of a revolution in the streets of London outside, directed by Kneehigh's Emma Rice.
Michael Fentiman will make his RSC directorial debut with Titus Andronicus, as will The Right Size's Sean Foley with Thomas Middleton's A Mad World My Masters.
The Swan season will close with a new play from RSC playwright in residence Mark Ravenhill written as a reponse to Voltaire's Candide directed by Lyndsey Turner.
Boyd said, "Our transformed Royal Shakespeare Theatre has really got into its stride this year, setting the pattern for how we celebrate Shakespeare's work. We've created a space which is perfectly balanced on the tightrope between the Renaissance and now and truly does bring the actors closer to the audience.
"The last twelve months, in which we've celebrated the RSC's 50th birthday in Stratford, opened the most awarded West End musical in history, and launched the World Shakespeare Festival right across the UK, point to the healthiest possible future for theatre.
"I'm very proud to be programming my last season in our new space with many of the theatre artists who have contributed to its success in the last year, before handing over to Greg Doran who will take the Company on to its next decade."