Brecht's dramatic works to be available online
Published: 15 July 2012
Reporter: David Chadderton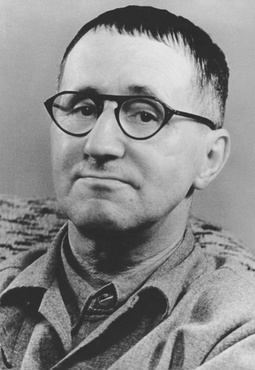 The dramatic works of Bertolt Brecht wil be available electronically for the first time through Drama Online when it launches next spring.
The online resource will allow visitors to compare different translations of the same plays, including versions of Mother Courage and her Children by Tony Kushner, John Willett and Michael Hoffman and of Caucasian Chalk Circle by Alistair Beaton, Frank McGuinness and a translation by James Stern, Tania Stern and W H Auden.
The archive will include plays from all eight World Classics play volumes from the most famous such as The Life of Galileo to the rarely-performed such as his Lehrstücke.
As well as the plays, Brecht's critical writings from Brecht on Theatre, Brecht on Film and Radio, Brecht on Art and Politics and the Journals will be available and fully searchable.
Marc Silberman of University of Wisconsin said of the new resource, "Access to Drama Online makes available Brecht's works in English translation on a completely new and welcome platform. Students and researchers now can search for words, concepts, and phrases across the texts and annotations, while theatre people can compare translations of the major plays with a digital click."
Drama Online is a new initiative that will feature a wide range of dramatic texts and works on theatre from Bloomsbury's Methuen Drama and Arden Shakespeare lists and from Faber & Faber to provide, "the ultimate online resource for plays, critical analysis and performance for libraries, educators, students and researchers".
It will launch in spring 2013 with trials from October 2012.