Buxton Fringe highlights
Published: 14 July 2012
Reporter: Steve Orme
Comedy shows how not to relax in Spain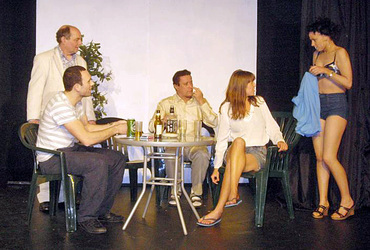 A new comedy which premiered at Salford Arts Theatre in April can be seen in the final week of Buxton Festival Fringe before the play goes on a tour of the north west.
John Waterhouse's How to Relax in Andalucia tells how Peter, recently made redundant and also divorced, is determined to make use of his new-found freedom by spending some time alone in Spain.
Everything is going well until three backpackers arrive: Carol, the ex-girlfriend of an English gangster; Saskia, an annoyingly friendly Dutch woman; and Mick, a loud-talking, hard-drinking Australian.
When a curious detective from England also pitches up, Peter goes on a quest to find solitude and relaxation.
The cast comprises Karl Seth, Rebecca Fenwick, Chris Pavlou, Nicole Gaskell, David Egerton and Abigail Hibbert. Darren Holness directs.
How to Relax in Andalucia will be performed at Buxton Community School Drama Studio, College Road, Buxton tomorrow (Monday) and on Tuesday at 7.45pm.
Company warms up with Gogol adaptation devised in Paris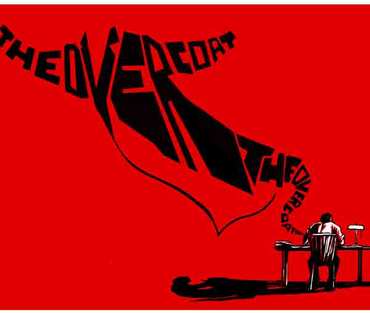 A play devised and performed originally in Paris takes in Buxton as part of a UK tour.
Le Mot Juste theatre company will be presenting The Overcoat which has been adapted from a short story by Nikolai Gogol.
The play outlines how Akaky Akakievitch, an impoverished clerk, lives for his work while harbouring secret fantasies of greatness.
When too many harsh Russian winters take their toll on his overcoat, he's forced to buy a new one or die of cold. How to pay for it is another matter.
Gogol's tale of one man's struggle to overcome his own mediocrity is re-imagined as "high-octane physical theatre" with live musical accompaniment.
Le Mot Juste is an ensemble-based company led by Sophie Horton, Ben Hadley and Polly Graham.
The company will be putting on The Overcoat in the Arts Centre Studio, part of the Underground Venues, on Friday and Saturday at 6pm.
Ginny serves up fishy tale about parenting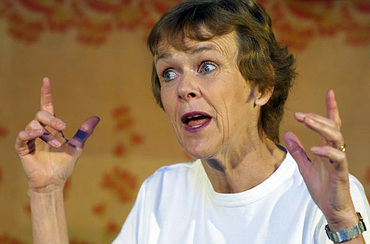 Former barrister Ginny Davis, nominated for best theatre production at Buxton 12 months ago with Double Booked, is performing a new work, Something Fishy, this year.
Something Fishy is a "funny, uplifting play which gives everyone a chance to laugh at another parent's expense for a change".
The production features mother-of-three Ruth Rich accompanying her 16-year-old son on a school trip abroad, leaving her 17-year-old daughter looking after the house.
Solo performer Ginny Davis conjures up an array of characters ranging from a 16-year-old schoolboy via a 34FF-sized, sex-starved, so-called friend to an anxious granny with, briefly, a couple of goldfish thrown in.
She'll perform Something Fishy in the Pauper's Pit, Underground Venues, The Square, Buxton on Thursday at 4.45pm, Friday at 6pm, and Saturday and Sunday at 1.30pm.
New Churchill play runs to Buxton
A new solo show written and performed by Freddie Machin, nominee for the Writer's Guild of Great Britain best play award, Winston on the Run gets one of its first performances at the Fringe.
The play is set in 1899 when escaped prisoner-of-war Winston Churchill is in a spot of bother—lost in the African savannah, circled by vultures and wanted dead or alive.
This is the "rollicking true story of how Britain's greatest hero defeated the Boers, overcame his demons and grew his first moustache".
John Walton directs. Set, costume and lighting are by Martin Thomas. Music and sound are by Harri Chambers.
Winston on the Run will be staged in The Pauper's Pit (Underground Venues), Water Street, Buxton on Friday at 3.15pm, Saturday at 6pm and Sunday at 3.15pm.
Taiwan dancers make UK debut at Buxton
Key Physical Theatre Company—young dancers from Taiwan interested in improvisation—will be performing for the first time outside their own country.
Formed two years ago, The Key will be taking Rambling in an Empty Room, "improvisational physical theatre at its most engaging and mysterious", to Buxton.
Using a feeling of unreality and imagination led by instinct rather than rationality, the dancers use their bodies to react to their own ideas and imaginings within the space.
The audience will be invited to draw its own conclusions from the dancers' movements and connect with the piece on a personal level.
Rambling in an Empty Room will be performed in the Green Room of the United Reformed Church next Sunday (22 July) at 2pm.