Buxton Fringe's major boost to local economy
Published: 2 November 2023
Reporter: Steve Orme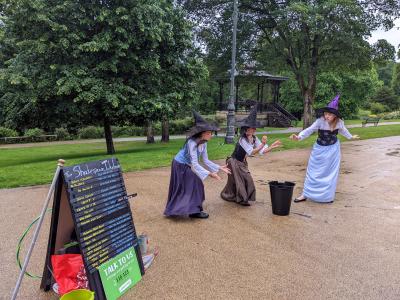 The 2023 Buxton Fringe boosted the local economy by almost £300,000, according to the Fringe committee.
The estimated figure of £276,042 includes ticket sales, expenditure by performers during their stay in Buxton and spending by audiences on food and accommodation. This "conservative" estimate does not include the Fringe's expenditure on printing, design, merchandise and wages.
Total ticket sales were up by 31% on 2022's event, with the average audience of 30 being the highest since 2014 and some performances selling out.
An estimated 13,600 people attended the Fringe. Audience spending on accommodation was almost double the 2022 figure.
Performers praised the Fringe for its "very straightforward" entry process as well as the "very strong, down-to-earth and welcoming" help offered by organisers and the "friendly environment" in which to put on new shows.
People visited from all over the UK including Cambridge, London, Belfast and Birmingham, with one person coming from Australia.
Fringe chair Stephen Walker commented, "it's been great to see Buxton audiences really getting behind Fringe events this year and it's no surprise that the local economy has benefited to such an extent. Buxton has seen an amazing summer of festivals this year thanks to the winning combination of Buxton Fringe, Buxton International Festival and the returning G&S Festival."
The 2024 Buxton Fringe will run from Wednesday 3 until Sunday 21 July. Entries will open on Friday 1 December.