Care taken with Milk, Two Sugars tour
Published: 17 August 2023
Reporter: David Upton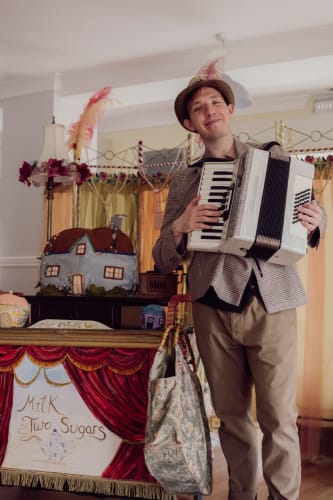 Bespoke theatre show Milk, Two Sugars is based on a touring tea-trolley—a familiar visitor to every care home lounge.
It's operated by Clementine and Johnny, who invite the audience to join in their tea-party cabaret spectacular.
The idea for this immersive show came from speaking with care home staff and health care professionals and becoming aware of the issue around dehydration in older individuals living in care homes.
The show was created in partnership with care homes in Sunderland and co-produced with Cultural Spring as part of their Bitesize programme.
The show is able to visit care homes long term, and that legacy is part of Woven Nest Theatre's aims.
The show has been made possible by funding from The Cultural Spring, Arts Council England and Sir James Knott Foundation.