Cartoon de Salvo celebrates 15th anniversary with two new shows in two venues
Published: 9 March 2012
Reporter: David Chadderton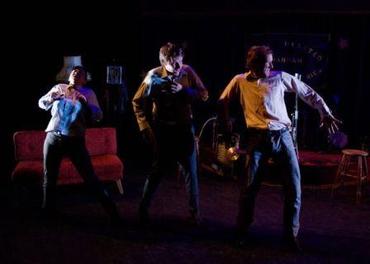 Theatre company Cartoon de Salvo will celebrate its 15th anniversary with two news shows: Made Up at Soho Theatre and The Irish Giant in The Vault at Southwark Playhouse.
Made Up is, as the title hints at, made up on the spot; it is an entirely improvised show created anew at each performance with improvised, live music from Brighton band The Adventurists. This will be at Soho Theatre from 4 to 21 April.
The Irish Giant is a devised piece based on a true story of eight-foot tall Irishman Charles Byrne, a big star in Georgian London, and of the anatomist who coveted his body John Hunter. This will be at Southwark Playhouse from 23 May to 9 June.
Cartoon de Salvo is director and performer Alex Murdoch and deviser, performer and journalist Brian Logan, the latter co-director of Camden People's Theatre. Founded in 1997, it has produced shows including Meat & Two Veg, The Sunflower Plot and Hard Hearted Hannah and Other Stories.