Cast revealed for tour of Wuthering Heights adaptation
Published: 8 March 2023
Reporter: Steve Orme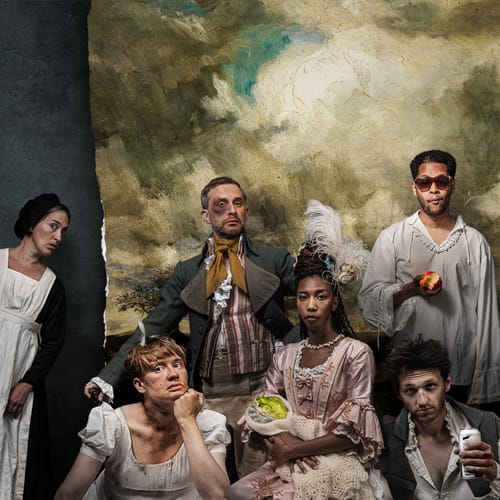 The full cast has been announced for Inspector Sands' new adaptation of Emily Brontë's Wuthering Heights which will open in Northampton before going on a short UK tour.
Leander Deeny will play Earnshaw, Edgar and Linton. John Askew will take the roles of Hindley and Hareton. Inspector Sands co-founder and co-artistic director Giulia Innocenti will play Nelly.
Lua Bairstow will play Catherine and Catherine's ghost, Ike Bennett will be Heathcliff and Nicole Sawyerr will play Isabella, Frances and young Cathy.
Inpector Sands will present the story in its "boldly humorous and humane style". It will be told through the eyes and memories of housekeeper Nelly, alone in her kitchen and haunted by the story.
The adaptation has been conceived and developed by Inspector Sands founding members Lucinka Eisler and Ben Lewis, with the script written by Lewis. Eisler directs.
Designer is Jamie Vartan and sound design is by Elena Peña and Dan Balfour. Ben Ormerod is lighting designer. Chris Yarnell is associate director, Johanna Martensson is costume designer, voice and accent coach is Gurkiran Kaur and Tanuja Amarasuriya is a consulting artist on the production.
Eisler said, "the show is ostensibly set in the 1750s but we're most drawn to its contemporary resonances. Brontë's novel illustrates the way violence, beliefs and family dynamics are passed down from generation to generation. We're interested in treading the line between darkness and comedy where the most human experiences seem to lie."
Wuthering Heights is a China Plate, Inspector Sands, Northampton Royal and Derngate and Oxford Playhouse co-production. It will open at Royal and Derngate from Monday 24 April until Saturday 6 May.
It then tours to Oxford Playhouse from 9 until 12 May, Warwick Arts Centre, Coventry from 16 until 18 May, Rose Theatre, Kingston from 23 until 27 May and Northern Stage, Newcastle from 6 until 10 June.
Related listings

Wuthering Heights - Emily Brontë (China Plate, Inspector Sands, Royal & Derngate Northampton and Oxford Playhouse)