Chichester's Theatre on the Fly season underway
Published: 30 June 2012
Reporter: Sheila Connor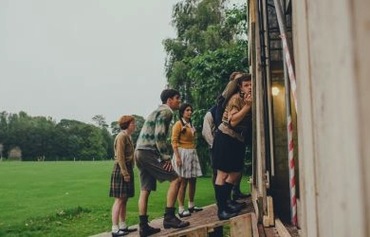 At Chichester Festival Theatre, the 50th Anniversary year is in full swing and the newly constructed, and temporary, Theatre on the Fly has begun productions with Dennis Potter's television play Blue Remembered Hills, adapted for the stage and directed by Anna Ledwich, the first of the three young Chichester trained directors who will make their directional debut here.
The play continues until 14th July and will be followed by Playhouse Creatures by April de Angelis, directed by Michael Oakley and running from 19th July to 11th August, with the world premiere of Fred's Diner by Penelope Skinner, directed by Tim Hoare, from 18th August to 2nd September.
Theatre on the Fly will also house a mixture of late night comedy, live music and cabaret, the Youth Theatre's production of Noah, theatre activities for children, brand new interactive audio experiences and anniversary readings.
Sponsored by B&Q, the design celebrates the theatrical fly tower, exposing all the ropes, rails and pulleys that lift and lower scenery, giving the theatre its name. Designed by Assemble, a community interest company made up of artists, designers and architects committed to improving the public realm and creating fantastic places for community and cultural activity, the focus is on innovative use of industrial and re-claimed materials and they aim to involve the public as participants and collaborators.
Meanwhile, a multi-award winning cast and creative team bring Cole Porter's Kiss Me Kate to the Festival Theatre, running until 1st September.