Comic and Panto Dame Dave Lee Dies
Published: 17 January 2012
Reporter: Simon Sladen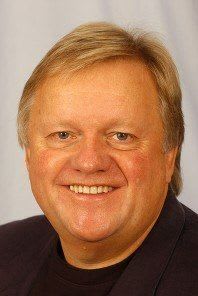 Comedian Dave Lee has died aged 64 after a battle with pancreatic cancer.
A true performer, Dave Lee started his career as a drummer in a comedy show band, later going solo on the advice of Eric Morecambe. His natural flare for comedy soon lead to him becoming one of the country's top stand up comedians and would see him travelling the world to entertain a wide range of audiences, from those aboard cruise ships to those serving in the armed forces.
Lee's great skill earned him nominations at the British Comedy Awards and as well as performing stand up in theatres up and down the country, his career saw him appearing on many radio and television shows including The Generation Game, The Brian Conley Show, Des O'Connor Tonight and Live from the Palladium, not forgetting his own radio show The Fat Bloke and golf series Through The Green for SKY.
Sir John Mills once said of him, "To succeed in comedy you need impeccable timing and Dave Lee has just that." In the 1970s he worked as a warm-up act for television, but Lee was equally at home on the musical stage, spending seasons playing lovable characters such as Baloo in the Jungle Book, Daddy Warbucks in Annie and the Cowardly Lion in The Wizard of Oz.
One of Lee's greatest passions was pantomime. His Dame delighted audiences for a quarter of a century, including stints in successful adult shows Sinderella and Boobs in the Wood for fellow comedian and friend Jim Davidson. From Dame Trott to Widow Twankey, Lee's Dame was an institution and for the past 16 years constituted the heart of the Marlowe Theatre, Canterbury's pantomime. His trademark Bench Gag received cheers each time Lee appeared with it underarm onstage and in 2010's Robin Hood a special golden bench was created for in honour of the set-piece. Sadly, Lee's Nurse Nellie would his be last appearance in pantomime as he was forced to withdraw from 2011's Cinderella due to ill health.
Not only an all-round entertainer and generous performer, Lee was also a man of great warmth and heart. In 1994 he founded "Dave Lee's Happy Holidays" which has since raised over £2Million and sent over 20,000 sick, disabled and disadvantaged children and their immediate families who live in Kent on holiday. Lee was voted "Today's Hero for Kent" by listeners of Capital Gold Radio and in 2003 was awarded an MBE for his charity work. He was due to be presented with the award 'Freeman of the City of Canterbury' later this month.
Calls have been made for a statue to be erected outside the new Marlowe Theatre, complete with Lee's trademark pantomime bench, to honour the much loved comedian and charity fundraiser that Canterbury took into their hearts.