Coronavirus: NW theatre closures
Published: 17 March 2020
Reporter: David Chadderton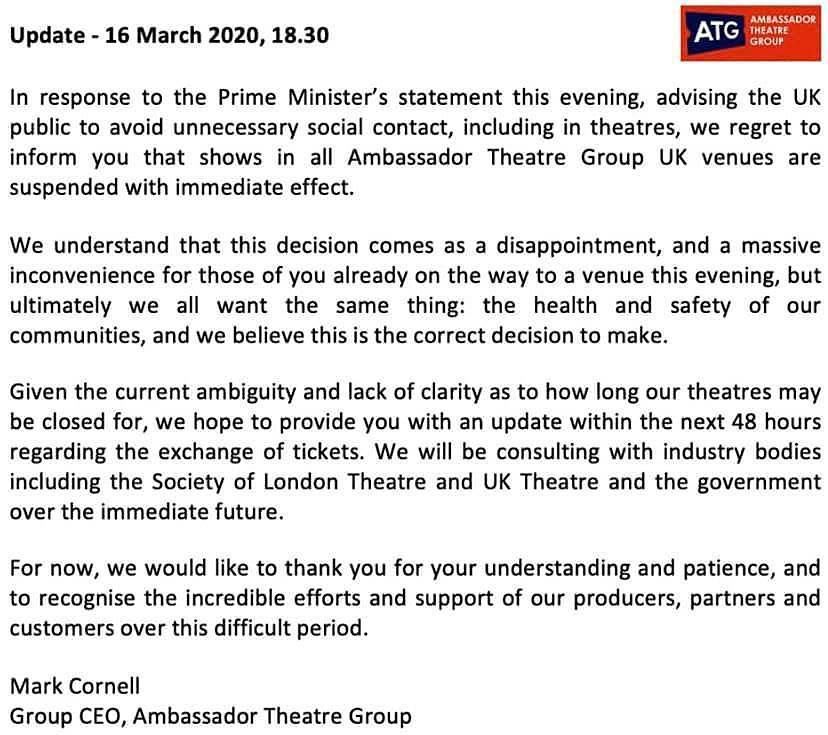 Following Boris Johnson's recommendation that people stay away from theatres, many NW venues have closed, but the situation is still uncertain and constantly changing.
ATG Theatres' Manchester Venues—the Opera House, where Back to the Future The Musical is receiving its world première, and the Palace Theatre, where Phantom of the Opera is due to open next week—and Liverpool Empire announced at 6:30PM on 16 March, "shows in all Ambassador Theatre Group UK venues are temporarily suspended with immediate effect," adding, "given the current ambiguity and lack of clarity as to how long our theatres may be closed for, we hope to provide you with an update within the next 48 hours regarding the exchange of tickets."
The other major receiving house in the region, The Lowry in Salford, has a brief message on its web site: "The Lowry building will close to the public from tomorrow, Tuesday 17 March, until Tuesday 31 March. If you have a ticket for an upcoming performance, please DO NOT contact us. Our box office will be in touch with you in due course."
Dave Moutrey, Director & CEO of HOME Manchester, said, "we have taken the decision to close HOME to the public as of tomorrow (Tuesday 17 March)... We don't know yet how long this closure will last, but this will be at least until the end of March 2020."
The Royal Exchange Theatre, whose latest production was due for its press night tonight, said, "in light of the Government's most recent statement regarding COVID19 we have made the decision to cancel tonight's performance of Rockets And Blue Lights." News on subsequent performances is expected later today.
Oldham Coliseum's next in-house production isn't due to open until next month, but it announced yesterday, "we have cancelled The Last Quiz Night on Earth at The Bank Top Tavern with sincere apologies for the short notice." The Octagon in Bolton isn't due to open its new season in its refurbished venue until September and so hasn't made any announcements. Contact hasn't reopened since it closed for refurbishment a few years ago, but has announced, "it is with sadness that we have decided to postpone our participation projects, or deliver them remotely / online."
Liverpool's Everyman and Playhouse theatres stated at 9PM yesterday, "our extended management group for this situation is working through the ramifications and we are in consultation with our trustees, funders and the wider theatre community here in Liverpool and across the UK... We will provide you with a further update once we fully understand these government recommendations."
Theatre by the Lake in Keswick still states on its web site that performances are continuing as usual, but that may change later today. Storyhouse in Chester announced its closure from last night, adding, "We will be cancelling all shows and screenings until 31 March and will contact customers as soon as possible; there is no need to contact us. We may find alternative dates to present some of these events, in which case we will contact customers with options."
The situation is changing rapidly, so check on the theatre's web sites or social media channels for the latest information. You can also contact the theatre box office direct, but they are likely to be very busy at the current time so expect delays.
Update 17 March, 11AM
Manchester's Royal Exchange Theatre has cancelled this evening's press night for Rockets and Blue Lights.
Liverpool's Royal Court Theatre will reschedule all performances between now and 5 June, with Pete Price Is Dead moving to October, YNWA moving to June and Macca & Beth rescheduled to February 2021; studio shows up to 5 June will be postponed or cancelled. The Foyer Café will remain open "until we are told otherwise... as an option for people who need to know and feel that they are not on their own."
Theatre by the Lake is closing from today "until we are advised we can reopen." They add, "the theatre will be in touch with audiences once we have been advised it is safe to reopen. We are postponing Malory Towers and hope to stage it later in the year, and whilst it is inevitable that the start to our summer season and our community programmes will be disrupted, we will announce details as soon as we can."
Update 17 March, 12:30PM
Hope Mill Theatre has posted that it will close with immediate effect, which will end its run of Zorro The Musical before tomorrow's planned press night. They asking for anyone who is in a position to support them to make donations on the theatre's web site to help it to survive the closure.
Update 17 March 1PM
Blackpool Grand Theatre has announced it will close today and that all shows are cancelled until 6 April. They later tweeted that they were having to close their phone lines due to the volume of calls they were receiving; they said in their statement, "please do not contact the Box Office, they will contact you." On the Prime Minister's statement, they commented, "Blackpool Grand supports the decision, but this uncertainty and lack of clarity by the government will be incredibly costly for the theatre, the industry, and its supported artists with no government assistance."
Unity Theatre in Liverpool has stated it will postpone all performances and events this week, including Vamos Theatre's Dead Good and Travelled Companions Early Years Play. It added, "as circumstances continue to evolve, we anticipate further postponements and will contact all existing bookers accordingly. Nobody at Unity has been in contact with the virus. However, as a hub for the community, we regularly host events and performances for some of the most vulnerable in our society and do not wish to put people at unnecessary risk." It has also requested donations to help the organisation through the closure.
The Dukes in Lancaster now has a large message on its homepage saying, "following the latest government update, we will close our doors to the public until at least March 30. We'll see you soon."
Crewe's Lyceum Theatre has also suspended all events and shows from today.
Chester's Storyhouse has posted that it will be cancelling all shows and screenings from today until 31 March. They added, "we may find alternative dates to present some of these events, in which case we will contact customers with options. As we receive more information about shows beyond that, we will be in touch with customers immediately."
Liverpool Everyman and Playhouse has now confirmed it will close until Government advice changes. It has said, "Northern Broadsides' production of Quality Street at the Playhouse will no longer go ahead, and we have made the decision to pause our in-house production of Our Lady of Blundellsands at the Everyman for the entirety of its run. We are working with the producers of our other forthcoming visiting productions, Holes, Ghost Stories and Zog, as well as productions through until June, to work out the next steps."
Update 17 March 5:30PM
The Royal Exchange Theatre has now confirmed that it will suspend all activity from 5PM today until Saturday 4 April, the final scheduled performance of Rockets and Blue Lights. Like other theatres, it has asked people not to contact the box office—they will be contacting ticket holders—and to consider donating the ticket cost or making another donation to the theatre if possible to help them over this period of closure.
St Helens Theatre Royal has announced that all shows for this week and next week are suspended with immediate effect.
Brewery Arts Centre in Kendal has also confirmed that it will close from today until at least 29 March.