Curve is Leicester's "most disastrous project" - Mayor
Published: 4 August 2012
Reporter: Steve Orme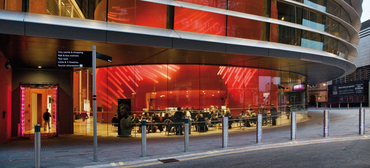 Leicester's Curve theatre was "the most expensive and most disastrous project this city has ever seen in its history", according to the city's elected mayor.
Designed by architect Rafael Viñoly, the theatre should originally have cost the city council £4.4m. But the authority had to fork out £36.8m towards the £61m total cost when the original budget doubled.
The rest of the cash was provided by a range of agencies including Arts Council England and the now defunct East Midlands Development Agency.
Three years ago the Audit Commission said the cost of Curve did not represent value for money.
Now Sir Peter Soulsby, elected Leicester's first city mayor in May 2011, has revealed the city council is still paying out hundreds of thousands of pounds to maintain the former Haymarket Theatre which closed five years ago.
Sir Peter said, "Curve is a wonderful theatre and we're very proud of it. But it came at an enormous cost and it's quite clear that when it was planned people didn't control the costs."
He said the city had been landed with annual running costs of £100,000 for Curve's predecessor the Haymarket as well as a further annual payment of £20,000 for empty property rates.
The council owns the lease on the Haymarket which is on the market for £500,000.
"I'm very actively trying to find a use for this building but it's not easy to find someone in this economic climate," he added.
The city council makes a grant of £800,000 a year to Curve which was originally expected to open in 2006 but hosted its first performances at the end of 2008.