Derelict Derby theatre 'can be rebuilt' - study
Published: 22 April 2012
Reporter: Steve Orme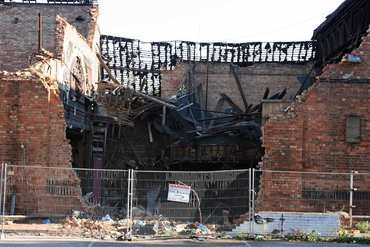 An architects' study has said a theatre in Derby that was wrecked when builders moved in could be rebuilt—but it would cost £15million.
The Grade II-listed Hippodrome which opened in 1914 was damaged by repair work in 2008 and later by fire.
The Hippodrome Restoration Trust appointed architects to consider three options: restore it as a theatre; convert it into a smaller theatre and use the building for other functions; or change its use into something like a nightclub.
The report says, "There is evidence to suggest that, with positive political support, a restoration project might present a cost-efficient and viable opportunity for creating modern theatre provision for the city of Derby."
Joan Travis, who chairs the Hippodrome Restoration Trust, pointed out that the theatre could be Derby's "jewel in the crown".
She said, "It would bring in a lot of people, make money and be the centre of culture."
Meanwhile a survey carried out on behalf of the Restoration Trust shows that the majority of Derby residents who responded want the Hippodrome to be restored as a fully working theatre.
Joan Travis added, "It's heart-warming that the overwhelming majority of the people surveyed support the restoration of the theatre and 95% of those made offers to help or be kept informed.
"Other studies have shown that theatres are strong contributors to both the social and economic well-being of a community. Derby City Council should feel confident in helping the Trust to acquire the building now that this professional appraisal has produced a strong case for the restoration of the theatre."
She said she hoped the report would encourage the council to use its compulsory purchase powers to buy the building from its owner, Christopher Anthony.
The council successfully obtained an injunction against Mr Anthony in 2008, preventing him carrying out further work on the Hippodrome without permission after it was damaged.
The authority took him to court for causing the damage but a judge ruled Mr Anthony did not have the money to pay any fine.