Desperately seeking . . . a premiere
Published: 16 March 2012
Reporter: David Upton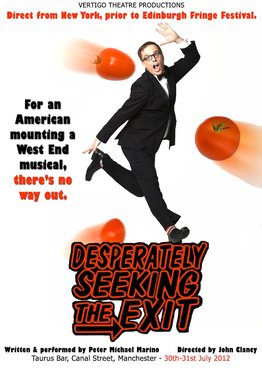 Award-nominated Vertigo Theatre Productions are bringing a new show and its star from New York to Manchester for its UK premiere in July, prior to a four-week run at the Edinburgh Fringe Festival.
Writer / performer Peter Michael Marino presents a comic autopsy on his infamous £4 million West End musical fiasco Desperately Seeking Susan the Musical in Desperately Seeking the Exit.
The musical, featuring the music of Blondie, opened on London's West End... and closed a month later.
This 60-minute true tale not only traces the evolution of the high-profile musical from conception to closing.
It's at Manchester's Taurus Bar July 30 and 31 at 8pm