Dukes can play out again
Published: 4 May 2012
Reporter: David Upton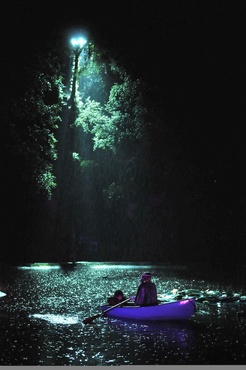 After a year's 'rest' The Dukes in Lancaster is to present outdoor walkabout theatre again next year.
Overwhelming support for what became the biggest event of its kind in the UK means the show will go on in Lancaster's Williamson Park in the summer of 2013.
The Lancaster theatre took a break from its park productions this summer owing to its commitment to stage work and to tour its homegrown Lancashire witches drama Sabbat to commemorate the 400th anniversary of the witch trials in the city.
Financial challenges also played their part in the decision.
Such has been the demand from the public, however, and the encouragement from its funders for outdoor theatre to be re-instated that The Dukes has reviewed its options and the show will return in 2013. The title will be announced later this summer.
Dukes director, Joe Sumsion said: "Last summer we said Merlin (which attracted a total audience of nearly 18,000) would be our last outdoor walkabout theatre show for the foreseeable future. Since then, we have been overwhelmed by the positive response to our park shows from the public and artistic community which we've had at the forefront of our mind when planning for the future."
The Dukes, a registered charity, receives core funding from Arts Council England, Lancashire County Council and Lancaster City Council.
Jane Beardsworth, North West regional director of ACE said: "We're delighted to be supporting The Dukes' park production. The Dukes is one of the Arts Council's 85 national portfolio organisations in the North West—a portfolio that has been shaped by five shared goals that make up our 10-year vision of achieving great art for everyone. We're also looking forward to the revival of Sabbat this summer and we congratulate The Dukes for breaking new ground by taking this production on tour to new audiences."
Lancashire County Councillor Mike Calvert, cabinet member for adult and community services, said: "As well as being hugely popular with local people and visitors alike, the promenade is a significant event in Lancashire's cultural calendar and receives national acclaim."
Meantime the Dukes is calling on all those who value the park show to support a major fundraising drive which will supplement its core funding.
Over recent years, The Dukes has significantly increased its earned income and support from corporate sponsorship and its Friends scheme but aims to build and develop on this success.