Edfringe launches ticket purchases through iPhone and Android app
Published: 22 June 2012
Reporter: David Chadderton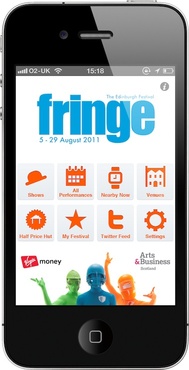 The Edinburgh Fringe Festival has launched a smartphone app for iPhone and Android that will allow users to buy tickets directly through their 'phones.
The Fringe has had a smartphone app for the last two years—last year's was downloaded 45,000 times—but this year the Fringe Society hopes to build on previous successes with new facilities in this free-to-download app.
As well as the ability to purchase tickets directly, the app features a festival planner to organise Fringe events, which can be shared through Facebook and Twitter, plus information about which shows are selling tickets through the Half Price Hut. It can also give details of shows that are starting soon or which are closest to the user, utilising the 'phone's own geolocation facilities.
The Edinburgh Festival Fringe Society's chief executive Kath M Mainland said, "We think this app makes us the biggest mobile box office in the world. It allows anyone with an iPhone or an Android 'phone to buy tickets for the shows that make up the 2012 Edinburgh Festival Fringe.
"It's very simple, you can buy tickets for a show on the app and then collect the physical tickets from our collection points at the Fringe Box Offices on the High Street, at Glasgow Queen Street Station, at the Virgin Money Half Price Hut and at the University of Edinburgh Visitor's Centre on Bristo Square."
The app is free to download from the iTunes Store, Google Play and the web site of app developers Kotikan.