Elysium launches COVID-19 monologues
Published: 30 September 2020
Reporter: Peter Lathan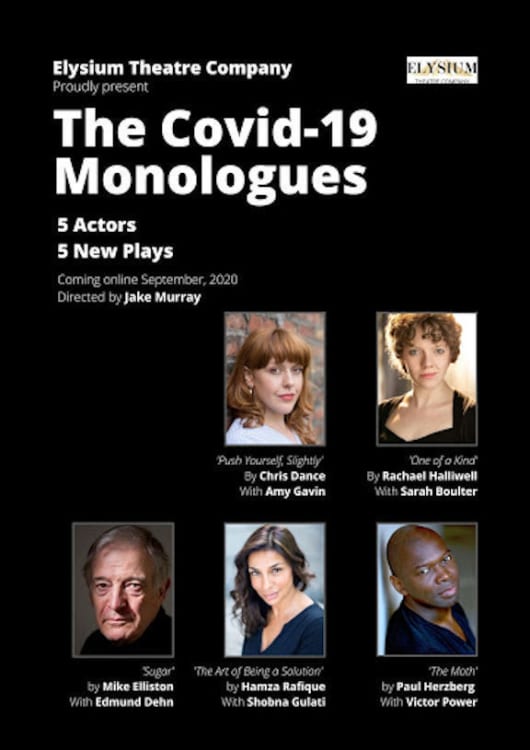 Durham-based Elysium Theatre Company is to upload five specially written COVID-19 monologues, ranging from 10 to 40 minutes in length, to its YouTube channel, starting on 30 September, with a new one released every two days until 9 October. The monologues feature actors from across the country and have been filmed by 'socially distanced' cameramen and directed virtually by Elysium artistic director Jake Murray.
Murray, whose late father Braham Murray was one of the founding artistic directors of the Manchester Royal Exchange, said, "this project is a response to what is happening now, with COVID-19, both with the plot themes and the way we are producing virtual, socially distanced, theatre.
"What has been interesting is that this has been such a creative time, we have been busy throughout the whole pandemic trying to adapt what we do."
The monologues, in order of release, are:
Sept 30 – One Of A Kind
By Rachael Halliwell, performed by South Shields-born Sarah Boulter: a reporter in the North East gets a job at a care home during COVID-19 to be close to her father.
Oct 2 – Push Yourself, Slightly
By Chris Dance, performed by Lancastrian Amy Gavin: meet Jane, Professional Demotivator, who will help you realise some of your dreams.
Oct 5 – The Moth
By Paul Herzberg, performed by Victor Power: a chance encounter on a train twenty years ago between a black British man and a white South African casts a shadow decades later.
Oct 7 – Sugar
By Mike Elliston, performed by Edmund Dehn: in Bristol in 1721, The Reverend Harcourt struggles with his conscience as he is asked to give the sermon at the funeral of philanthropist and slave trader Sir Edward Colston.
Oct 9 – The Art Of Being A Solution
By Hamza Rafique, performed by Shobna Gulati from Oldham: Preeya, right wing political advisor and racial gatekeeper, sits her child carer down to put her right on politics.
The Covid-19 Monologues are free to view and are available on the Elysium Theatre Company's YouTube channel.