Even more Heartbreak as tour company goes for period pieces
Published: 3 June 2012
Reporter: Steve Orme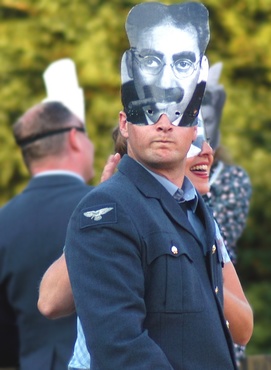 A Midlands theatre company has started a mammoth nationwide tour, with three productions playing a total of 170 outdoor dates over the next three months.
Leamington Spa-based Heartbreak Productions, which last year celebrated its 20th anniversary, is on the road with Shakespeare's Much Ado About Nothing, Noël Coward's Private Lives and The Railway Children by E Nesbit.
While some sections of the economy have been struggling, Heartbreak will be playing more dates than last year. Artistic director Peter Mimmack does admit though that this summer's plays have been chosen to ensure the company gets bums on seats after one of last year's plays, Pinocchio, lost money.
"We've gone for period pieces," he says. "The Railway Children is Edwardian, Private Lives 1930s and Much Ado is set in 1945 at the end of the war. They're three different decades but they've all got a nostalgic flavour about them."
He also acknowledges that times are tough. "It feels as though each year we've been tightening our belts and working harder. I've had to take on directing two productions this year rather than bringing in an outside director. We're trying to make ends meet. We're hanging in there."
Mimmack says Heartbreak is unique in the way it approaches the outdoor circuit, unlike some companies which are "panto-esque" and others which present "ceremonial" theatre because that's the way it's always been done.
"Some people who come for the first time are bemused because actors are talking to them. We interact with the audience.
"With outdoor theatre, the fourth wall is broken down. It's not an 'us and them' experience. People enjoy that. Theatre is all about that 'live' experience and connection with the audience."
Much Ado About Nothing starts this week at Jephson Gardens in Leamington while Private Lives gets under way at the same venue on Wednesday, 13 June. The Railway Children has played a couple of dates but starts in earnest on Wednesday, 27 June.
Further information is available at www.heartbreakproductions.co.uk.