First bite for Manchester
Published: 11 March 2012
Reporter: David Upton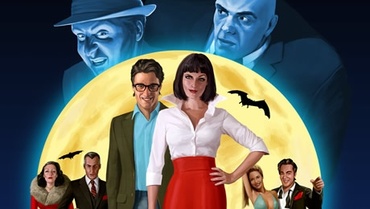 The Opera House in Manchester, now well used to staging world premieres, gets another in May with a brand new musical comedy Vampirette. Unashamedly attaching itself to continued fascination to anything vampire—and particularly its allure with a teen audience—this production follows Vampi, a young vampire determined to be a normal girl.
The life (and secrets) of a Vampire family in Manchester are revealed as they set about their daily lives.
The show includes new takes on classic songs including I've Got You Under My Skin, Down At The Club, Come Fly With Me, California Girls, Total Eclipse Of The Heart, Eloise and more . . . plus appropriately wicked dance moves.
Vampirette premieres as part of Manchester Gets It First, the campaign to make Manchester the UK's official theatre launch city.
Writer Jonathan Choat said: "Manchester has such a vibrant entertainment scene now, that it is the perfect place to stage the world premiere of Vampirette which I believe will be a great hit like Mamma Mia. You will know the songs and you will be singing them for weeks after, and our dancing and special effects are just spectacular.''
It runs from Friday May 4 until Saturday May 19.
Details: www.atgtickets.com/manchester