Frank serves up Shakespeare sequels in Birmingham
Published: 14 July 2012
Reporter: Steve Orme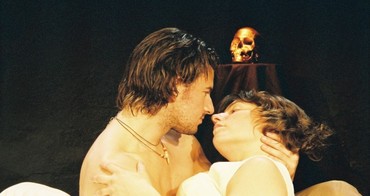 Birmingham's contribution to the World Shakespeare Festival is two sequels written by award-winning Birmingham playwright Frank Bramwell.
Romeo and Juliet for All Time, which has already appeared at Edinburgh and the Buxton Fringe, gets another airing while Bramwell's new work Ophelia, Princess of Denmark will get its premiere.
Both will be performed at the Old Joint Stock Theatre, Temple Row West, Birmingham.
Says Frank Bramwell, "It's not been easy trying to follow in the steps of this most incredible genius of words, yet the journey we started 10 years ago has been exhilarating, to say the least.
"While there are many companies throughout the world regularly presenting Shakespeare's plays in very different ways, the approach we've taken revolves around providing answers to this contention: taking as a given truth Richard Eyre's statement that Shakespeare gave us the DNA of our theatre, how then can it best be passed down the line to give new and sustainable life to his work?
"That's what we set out to do, and over the past ten years we've written and performed five sequels to Shakespeare's original plays.
"What links them all is they all start where the original finishes; Shakespeare's original words and characters feature strongly throughout; new words are written to blend in with the original words; and themes from the original are re-explored but from very different angles.
"We believe our approach of staying faithful to the original works by putting them in a very different setting results in a startling rejuvenation of the text, giving them a whole new life and meaning."
In Romeo and Juliet for All Time, the words of Shakespeare are heard throughout as the two lovers, with the help of Friar Lawrence, are forced to relive scenes from their earlier "lives".
Ophelia, Princess of Denmark involves Ophelia, Hamlet and Claudius being reunited as they try to work out what really happened to them first time around.
Romeo and Juliet for All Time will be at the Old Joint Stock Theatre on Friday and Saturday (20 and 21 July) while Ophelia, Princess of Denmark gets its premiere on Friday and Saturday, 27 and 28 July.