French troupe to headline Derby festival
Published: 4 August 2012
Reporter: Steve Orme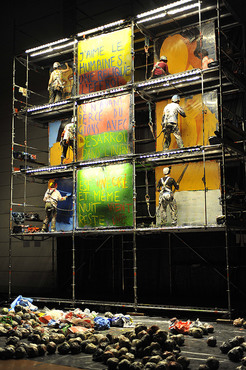 Organisers of this year's Derby Festé have announced that the headline act for the first two nights will be Luc Amoros—a French troupe which has played capital cities throughout Europe.
Derby Festé is Derby's annual festival of international street theatre and live outdoor performance.
Keith Jeffrey, director of arts centre QUAD which is one of the organisers, said, "This year we have an even greater mix of local and international artists to present one of Derby's most dramatic festivals to date."
Luc Amoros, described at its simplest as "shadow theatre", will perform on Cathedral Green on Thursday and Friday, 20 and 21 September.
On Saturday, 22 September Games Time, a free event on Darley Park with dancing, music and fireworks, will bring the Cultural Olympiad in the East Midlands to an end.