GIFT for Gateshead
Published: 13 March 2012
Reporter: Peter Lathan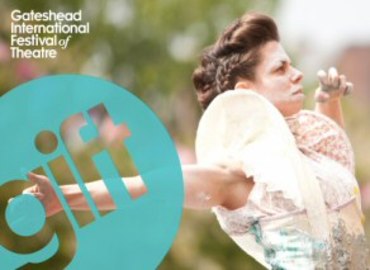 After the success of GIFT in 2011, the North East's only dedicated contemporary theatre festival returns in and around Gateshead town centre on Friday 4th - Sunday 6th May 2012. GIFT will bring together new theatre makers from around the world for a bank holiday weekend of performances, workshops and discussions. Events will take place at venues including Gateshead Old Town Hall and The Central.
The festival will showcase some of the most innovate and exciting new work created in the region within a curated programme of contemporary theatre from nationally and internationally acclaimed artists.
Spanish company Sleepwalk Collective (winners of ACT Festival, Bilbao, 2010 and BE Festival, Birmingham 2011) will be giving a work in progress performance of their latest piece Amusements, and there will also be artists from the USA, Portugal and Ireland, as well as various corners of the UK, including Third Angel, Fiona Wright and A Smith, who has been commissioned to make a new solo work for GIFT 2012, Commonwealth.
Regional artists will also be showcasing new works at the festival, among them Northern Stage Associate Artist Tom Walton, Unfolding Theatre and Puppet Ship who will perform Sparklean interactive performance combining music and puppetry for children.
There will also include daily workshops and discussions from leading contemporary theatre practitioners, including Newcastle based Zendeh and Los Angeles based improv artist Mel Cowan, offering opportunities for discussion, dialogue and exchange between artists and audiences.
Also launching this year is GIFTed, the new Higher Education strand of the festival that will showcase performance work by graduating and recently graduated students from Leeds Metropolitan, Goldsmiths, Falmouth at Dartington, Northumbria and Manchester Metropolitan Universities amongst others.