Godber comedy takes break at the New Vic
Published: 17 March 2012
Reporter: Steve Orme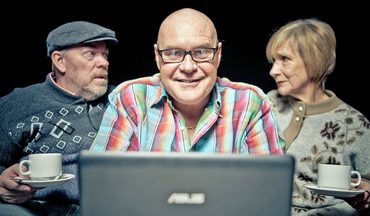 BAFTA-winning playwright John Godber returns to north Staffordshire this week with the rarely performed comedy Weekend Breaks.
Written in 1997, the play stops off at the New Vic, Newcastle-under-Lyme midway through a national tour.
Weekend Breaks features Martin Dawson, a working-class lad made good. But things turn rather chilly when his wife finds out he's been having an affair.
Says Godber, writer of comedies such as Bouncers, Up 'n' Under and Teechers, "Martin turns his life into comedy which is what many of the new wave of stand-up comedians are doing today."
Weekend Breaks features Rob Hudson as Martin, William Ilkley as Len Dawson and Christine Cox as Joan Dawson. John Godber directs this Theatre Royal Wakefield and John Godber Company production.
It opens at the New Vic on Tuesday and runs until Saturday, 31 March.