Gramophones to tour Awesome show
Published: 30 March 2022
Reporter: Steve Orme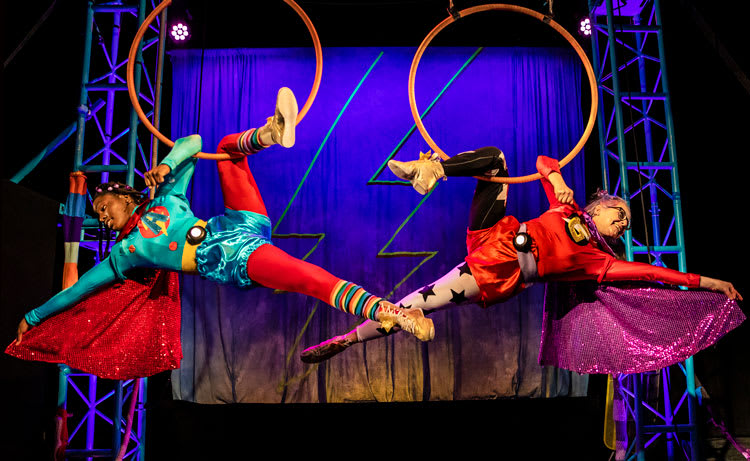 All-female company The Gramophones is to take its show Aidy the Awesome which is aimed at three- to eight-year-olds and their families on a UK tour.
Aidy the Awesome is an aerial theatre show which intends to highlight to young women that they can be strong, resilient, empowered and the superheroes in their own stories.
The Gramophones was set up in 2009 by co-artistic directors Hannah Stone and Ria Ashcroft. Stone, director and creative producer of Aidy the Awesome, said, "we're really excited to be taking Aidy out on tour across the UK after the show was made during the pandemic but is yet to be performed live.
"Children's media and books are packed with gender stereotypes: princesses waiting for Prince Charming, fairies dressed in pink and heroic characters that are almost invariably male. So we're keen to explore stories in which girls are protagonists in alternative feisty, funny and strong roles. We want to break down the princess archetype and offer young girls different role models to aspire to."
The cast features Deborah Sanderson, Kathryn Hanke and Farrell Cox, who also devised the show, and Hazel Monaghan. Designer is Irene Jade, Darren Clark is composer, sound designer and musical director, aerial consultant is Gwen Hales and Kath Akers is participation lead.
Aidy the Awesome will tour to the New Wolsey Theatre, Ipswich on 14 April, the Quarry Theatre, Bedford on 16 April, The Brewhouse, Taunton on 19 and 20 April, Brixton House, London from 23 until 26 April, Curve, Leicester on 30 April and 1 May, Pavilion Theatre, Worthing on 7 and 8 May, Arts Depot, London on 22 May, Queens Hall, Hexham from 27 until 29 May, Nottingham Playhouse on 31 May, Barnsley Civic on 2 June and Northern Stage, Newcastle on 4 and 5 June.