Hair raising ticket sales
Published: 19 December 2021
Reporter: David Upton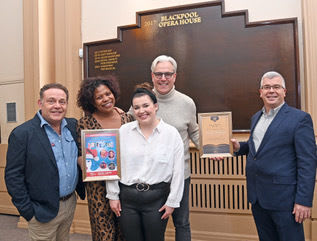 Hairspray the Musical broke records at Blackpool Opera House as its highest-grossing Christmas show in the venue's history.
Despite guidelines that masks must once again be worn in theatres, ticket sales have continued to fly.
More than 30,000 are expected to be sold by the end of the show's run in January, entitling it to be added to the Winter Garden's illustrious Roll of Honour.
Stars from the show, John Thomson, Alex Bourne, Brenda Edwards and Katie Brace, celebrated the unveiling.